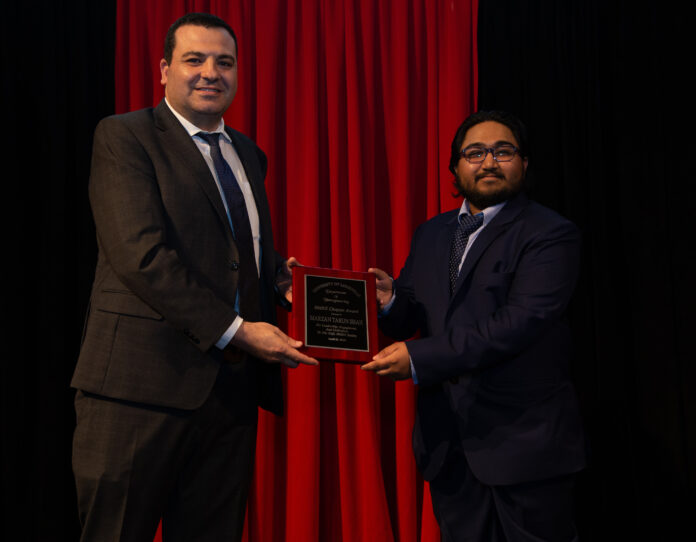 Shah Tarun, a Biomedical Engineering student in the Speed School of Engineering, and Dustin Williams, who is in his second year of the Chemical Engineering program, spent their spring semester co-ops working on a very timely issue.
Tarun worked with Dr. Jaimin Trivedi, an instructor of Cardiovascular and Thoracic Surgery at the UofL School of Medicine, to figure out how to protect healthcare workers against COVID-19 in a clinical setting.
Williams spent his co-op in Owensboro with Kentucky BioProcessing (KBP), a U.S. subsidiary of British American Tobacco, working on a coronavirus vaccine. 
Shah Tarun
Tarun, a Bangladesh native who first came to the U.S. in 2015, said he is using his co-op experience to further his professional development. 
"I believe this experience will overall showcase my skillset within the HTM/biomedical profession and continue to show my determination on doing what is right for the community," he said. 
He found his work with Dr. Trivedi to be especially rewarding because of that community piece. 
"It feels amazing to know that such a project can benefit PCP, ED, nurses, etc. It is even more amazing if you think that this project could help the common person too, making it commercialize-able for the community and providing the need for everyone if they so wish to," Tarun said.
Tarun, who is scheduled to graduate in December, said he chose to attend UofL because of its diversity and friendliness toward international students.
"I felt very welcomed when I first came. Most of my peers and mentors were helpful and kind, and I learned a lot of new things in Louisville, specifically being part of the Cardinal family," he said. "I just hope that I can benefit UofL in some way in the future." 
Tarun plans to stick around for now, with plans to enroll in UofL's MEng program for Biomedical Engineering. He then hopes to go into the research field and "in the far future" apply for medical school. This co-op, he says, has well prepared him for whatever comes next. 
"I feel like this experience made me better prepare for the worst outcome that could happen in the near future," he said. "Overall, it made me hopeful that my mentor and I can provide the hope that our healthcare providers need in these dire circumstances."
Dustin Williams 
Williams' co-op work has helped lead to pre-clinical testing that is underway on the potential vaccine, using fast-growing tobacco plant technology. According to KBP, tobacco plants offer the potential for faster and safer vaccine development compared to conventional methods. If testing goes well, the company is hopeful that between 1 and 3 million doses of the vaccine could be manufactured per week. KBP remains a commercial operation but its work around the COVID-19 vaccine project is carried out on a not-for-profit basis.
While Williams can't talk about the specifics of his confidential work, he says he realizes the COVID-19 outbreak has created a unique opportunity for his professional growth.
"The cooperative education program is meant to give students some engineering work experience while they're still in school, but this experience has also given me the opportunity to work on something truly important and impactful early in my career," he said. "I'm sure that's something many students worry about; struggling to find a meaningful path forward using their education."
That's a big part of the reason Williams decided to attend UofL. He wasn't happy with his former career path and wanted to go back for a "difficult, useful major." 
"I'd heard that chemical engineering was pretty difficult, and UofL just so happened to have a good engineering school that was close to my hometown," said Williams, a Bardstown native. 
Williams has learned a great deal during his co-op, beyond chemistry, biology and chemical engineering curriculum.
"I've learned many skills and concepts that I wouldn't have imagined learning. So my trajectory is a lot different than I expected, but I'm thankful to be here, and to be doing important work. I would also love to keep growing my skillset in this sector," he said. "For me, this experience has helped me compartmentalize; to draw the line between free time and crunch time, to tell the difference between an opportunity to learn or innovate and something that just needs to get done."
Williams credits his KBP colleagues for making him a part of the team and for the important work they are doing to find a COVID-19 vaccine.
"I've developed a deep appreciation for my relationships with my coworkers. During a time when many of us are struggling to fulfill those social needs in our lives, I cherish being able to come in and work alongside some of the brightest, most hardworking people I've ever known," he said. 
As for his post-graduate plans? He'd like to "stick around in the biopharmaceuticals industry." 
Stories written by Stuart Esrock, associate professor in the Department of Communications. Contributions from Alicia Kelso, OCM.