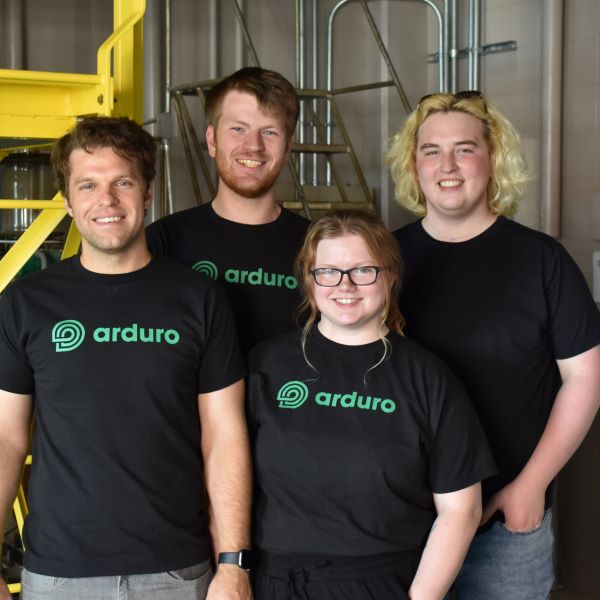 Three recent Chemical Engineering alums and one current Speed School student are playing a critical role in a company created from University of Louisville research. Patrick Kroeger, Heather Evans and Cora Grief all work for the Arduro Sustainable Rubber company, while Michael LaRoche will graduate in Spring 2022 and join them.
Arduro Sustainable Rubber Inc. is a clean technology advanced manufacturing company that converts waste tire back into their primary components (rubber, carbon black or "CB" and steel). The company has developed a patented process that provides high quality raw materials (rubber and carbon black) at competitive prices to go back into Original Equipment Manufacturing products, while providing an environmentally sustainable disposal method of ELTs.
Eight years in the making
The initial research for the project goes back eight years when Dr. Gerold Willing, professor and chair of the Chemical Engineering Department at Speed School, was working with Civil Engineering professor Thomas Rockaway and the Center for Infrastructure Research as well as the Rapid Prototyping Center. With an American Water Works Association grant, they were studying the aging of elastomeric materials and the water utility industry.
Due to new EPA rules, utilities had begun switching from using chlorine to clean water to using chloramines. But with the introduction of the new chemicals, they began to notice rubber components were degrading much faster than they should be.
"They were supposed to be lasting 20 years, but were only lasting two years," said Willing.
The rapid degradation mechanisms inspired Willing to wonder if there was any way to purposefully use this to degrade rubber, and the idea for the research germinated in 2012. That term, graduate student Patrick Kroeger wrote his Master's thesis on the project. "Could this be a feasible method of recycling tires? and the answer was yes," said Kroeger, who decided to continue to pursue this project through his PhD at Speed School.
"We replicated our results from my original Master's thesis and we filed for our provisional patent in fall of 2014, and then filed for the full patent and received it in 2016," he said.
The sometimes difficult next step in taking the research to commercialization was finding funding. "At that point, we managed to cobble together some funding with a little bit from the state and a little bit from the university to continue developing it," said Willing.
Patented new technology attracts investor
Willing explained that when you're seeking funding, it comes to develop a proof of concept and to prepare for commercialization.
"But there is a space between where it's a funding gap," he said. As luck would have it, UofL's technology transfer office put the project work on the website and immediately attracted the attention of business executive and investor Ian Lowe, who is now the CEO of Arduro.
"With his connections and influence, he took us the next step to the commercialization route," said Willing.
Kroeger designed the system and after two years at the company, is currently the vice president of Technology for Arduro. "There was no technology that was really effective at creating a vulcanized rubber product where you can basically take the tire from a rigid, non-malleable state and chemically modify it so that it can go back and be remolded and then re-vulcanized and put back into, for example, another tire," said Kroeger. "There's no other technology out there that does that right now, so Ian Lowe and I began discussing my background, and he needed someone to lead the technical side of it."
From the lab to the workplace
Kroeger was not the only chemical engineering major from Speed School to find the idea of building something from the ground up appealing. Cora Grief, Heather Evans and Michael LaRoche, among others, worked as co-ops and undergraduate assistants.
"They've been a critical part of the development as we progressed through ideas and concepts and manufacturing techniques that didn't work, and then eventually adjusted those into actually working," said Kroeger. "They've been there every step of the way."
Grief was the first co-op at Arduro. "When I entered the chemical engineering major, I became really interested in more green-type of endeavors, helping to fix some of the damage we have done to harm the Earth," said Grief. "When I saw Arduro, it's a very hands-on workspace. You can just try things out, and your ideas can be implemented really quickly," she said.
Kroeger said Evans began as an intern and while she finished classes at Speed, in between she was working to bring the pilot plant up and operating, building the beginning of the infrastructure that would turn into what it is today.
"I was attracted to the sustainability aspect of Arduro," said Evans. "A lot of companies in the chemical industry really just aren't doing the best thing for the environment. I really liked the environment of the start-up. We're all here because we have the motivation and ambition to do something meaningful."
LaRoche completed all three co-op rotations at Arduro, and upon graduation in Spring 2022, will be working for the company as well.
"Freshmen year, not too long after I started working at Arduro, I just kind of immediately fell in love with the pilot plant setting," said LaRoche. "I felt like my ideas were respected, and I feel like I learned a lot of information very quickly about chemical engineering in general, and the transition from a lab state to an actual plan."
Two graduates tapped to lead development in Canada
The success of Arduro as a company over the last two years has led to the company expanding its footprint into Canada. "roeger said Grief and Evans were hired with the primary goal and focus on the development of the Nova Scotia plan.  
The two engineers are excited for the challenge.
"We're still in the very early stages," said Evans. "We are looking at different sites for where the plant is going to go up, figuring out what contractors we need to get those sites ready. The scope of the project is how do we take what we've done that's out here in the pilot plan and scale that up and put that in Canada?"
The project is a two-phased approach, with a tire shredding plant built before the reaction system. Kroeger expects the plant to produce around 2.5 tons of rubber and 1.5 tons of carbon black every day. The Nova Scotia plant is expected to be operational by mid-2023.
Willing said the environmental impact is huge. "When people talk about a fundamental shift in how we do things, this is that shift," he said. "Up until this point, there's been no way to close that rubber loop effectively, and you end up either burning it or it goes in a landfill. But now that's not the end of the road."
"It will begin to address at a massive environmental problem," added Kroeger. "A lot of people are excited about the fact that we can reuse material. We've talked to some pretty big tire companies and rubber manufacturers, and they want to be part of the solution."
Read more about their story here.