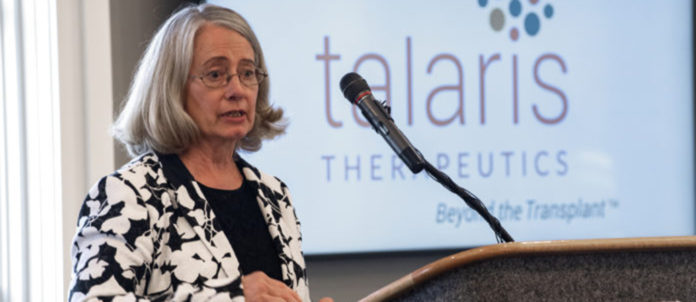 A company born at the University of Louisville has raised an additional $115 million to further develop a therapy that could improve the lives of kidney transplant recipients.
The company, Talaris Therapeutics Inc., plans to use the series B funding to support a Phase 3 clinical trial — the last step before applying for FDA approval. This follows a $100 million series A funding round announced last year to hire staff and initiate the trial.
Talaris recently began dosing patients in that trial of the unique cell therapy, called FCR001, which allows living-donor kidney transplant recipients to stay off immunosuppression drugs they would otherwise need for the rest of their lives.
Immunosuppressants help prevent rejection of the transplanted organ, but can cause side effects, including high blood pressure, diabetes, high cholesterol, neurological effects, increased risk of infection and decline in kidney function over time.
"This technology could help transplant patients live fuller, healthier lives," said UofL Executive Vice President for Research and Innovation, Kevin Gardner. "This UofL research, in the hands of strong industry partners and backed by investors, is a big step in advancing our health." 
FCR001 consists of stem cells taken from the organ donor and processed at the Talaris facility, then infused into the organ transplant recipient. The goal is to create a durable "dual immune system" (part donor-derived and part recipient) in the transplant recipient. These two immune systems coexist, recognizing both the recipient's own body as well as the donated organ as self.
The new funding also will advance a planned Phase 2 trial of FCR001 in diffuse systemic sclerosis, a severe form of the rare autoimmune disease scleroderma.
Talaris, formerly known as Regenerex LLC, was founded by UofL researcher and innovator Suzanne Ildstad to commercialize the pioneering work of her team at the university. She now serves as Talaris' chief scientific officer.
"This financing moves us one step closer to helping organ transplant recipients no longer be dependent on immunosuppressive drugs, resulting in a greatly improved quality of life," Ildstad said of the earlier Phase 3 trial financing. "The support and research infrastructure at UofL have been invaluable in our journey to this important juncture."
In an earlier Phase 2 trial, FCR001 allowed 70% of living donor kidney transplant patients durably to be weaned off all of their immunosuppression treatments.
The Phase 3 trial is expected to enroll 120 adult living donor kidney transplant recipients at multiple sites across the U.S. To date, the trial has been initiated at five clinical sites around the country.