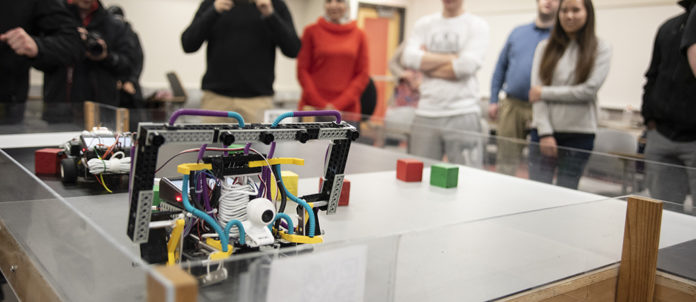 ​The University of Louisville has received nearly $4 million from the U.S. Department of Labor to build a program that will prepare students for the ever-evolving, technology-enabled "jobs of tomorrow."
The competitive federal grant was announced by U.S. Senate Majority Leader Mitch McConnell, a UofL grad. 
​The UofL Modern Apprenticeship Pathways to Success (MAPS) program is funded through the DoL's "Apprenticeships: Closing the Skills Gap" initiative. UofL was one of just 28 public-private partnerships funded under this federal program in its most recent round, and is the only one in Kentucky.
​Through MAPS, UofL will create apprenticeships that connect what students learn in class with their eventual careers. The apprenticeships will also give them field experience with disruptive, cutting-edge technologies that can change how work is done.
​"At UofL, we recognize that many people entering such industries as advanced manufacturing, healthcare and information technology require new skill sets or retraining in order to be successful," said UofL President Neeli Bendapudi. "The apprenticeships created by the university and its private-sector partners through this grant program will help to form the workforce of the future." ​
UofL will also work with three academic partners — Webster University, Jefferson Community and Technical College and Elizabethtown Community and Technical College. These institutions will help MAPS create transfer opportunities for associate's degree holders who want to earn a bachelor's degree, and connect with underrepresented minority students and those who are, have been or depend on a member of the military. ​
Principal investigator Dr. Jeffrey Sun, of the UofL College of Education and Human Development (CEHD), said preparing students for high-skilled jobs is especially important now, at a time when the world of work is increasingly disrupted and evolving due to technologies like artificial intelligence and automation. ​
According to a 2019 report from the Brookings Institute, automation will be most disruptive in the Heartland, and especially in Kentucky and Indiana. In the Louisville Metropolitan Statistical Area alone, the report says some 670,000 jobs are susceptible. ​
But while automation may replace some jobs, some reports show it creates others — ones companies can't seem to fill due to the skills gap. According to a 2018 report from Deloitte, advanced technologies in the manufacturing industry will cause an estimated 2.4 million positions to go unfilled between 2018 and 2028.
​"The workforce in the Heartland is underemployed, mostly due to manufacturing layoffs and the unpreparedness of workers for higher-skilled jobs," said Sun, associate dean for Innovation and Strategic Partnerships at the CEHD. "We want our students at UofL to be prepared when new technologies, such as robotics and AI, alter our work or the market shifts, perhaps from 3D printing, change our business model."
"By equipping job seekers with the training they need for good, 21st-century jobs, we can help close the skills gap and build upon Kentucky's growing economy," McConnell said in a release. "I applaud President Trump for his administration's focus on apprenticeship programs, and I'm proud to work with him to promote investment in the future of Kentucky's workers and their families. As Senate Majority Leader, I'm in a better position than ever to deliver for Kentucky communities, and I was proud to partner with UofL to give Kentucky workers every opportunity to succeed."