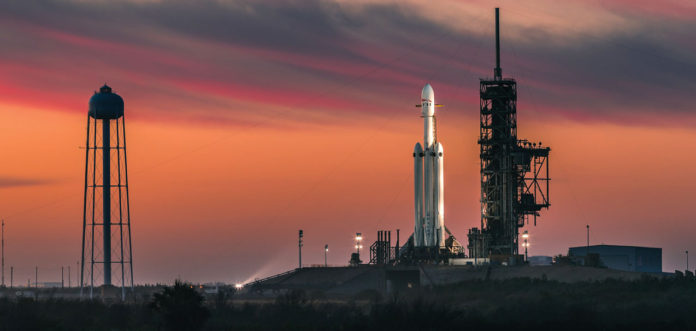 When the world's most powerful rocket blasted into the atmosphere, a UofL alumnus was watching from mission control.
Austin Marshall, 12S, 13GS, is part of the SpaceX team that launched Falcon Heavy — and its owner Elon Musk's Tesla — into space in February.
"It was awesome," Marshall said. "We all kind of had this thought in the back of our head that it might not work — even Elon said there was a 50 percent chance it could go wrong. But the more times things worked, the more excited everyone was."
Marshall, who graduated from the J.B. Speed School of Engineering with an industrial engineering degree, is the mate­rial flow planner for SpaceX. His job is essentially logistics, making sure all the parts and pieces needed to build the rockets are right where they should be, when they should be there.
"Right now building a rocket takes a long time," Marshall said. "SpaceX wants to make it a really quick process, like an assembly line."
Marshall, who worked in logistics for Toyota before join­ing SpaceX, was the perfect fit to help move SpaceX toward a more automotive-type manufacturing system. Since start­ing with the company, his role has expanded to include handling all the packaging for all the rocket parts, as well as ensuring those parts move around the company and across the country for the launches.
Marshall, who grew up in Possum Trot, Kentucky, before attending UofL, applied to SpaceX twice before joining the team.
"I wanted to work at a company that was driving things forward and at the forefront of technology," he said. "At SpaceX, we have the smartest people on Earth working here, and we all have the same goal — something you don't see in a lot of jobs. Here, building rockets is every­one's job."
While Falcon Heavy was a record-setting rocket, it is just the beginning of what SpaceX has planned. "Our number one goal for the year is to put people in space," he said.
Meanwhile, Marshall is working with his co-workers to launch their own satellite into space. After that — though still several years out — is the BFR, or Big Falcon Rocket, which is designed to be capable of carrying humans to Mars.
"BFR is going to be three times the size in diameter and twice the height of Falcon Heavy. It's going to be really intense," Marshall said. "It's going to be a whole different experience for SpaceX."
Marshall is playing an integral role in the BFR design process as the logistics manager. His time at Speed School, particularly his engineer­ing co-ops, prepared him well for the fast-pace of SpaceX. But it was a freshman year calculus class that gave Marshall his best experience.
"Our teachers really taught us to keep work­ing and solve problems that shouldn't be able to be solved," he said.
That determination fits right into the mantra at SpaceX, where they are expanding the limits of space travel.
"It's a dream job, being able to work on some­thing that's going to go into space," Marshall said. "It's definitely one of those jobs you don't mind waking up for every day."