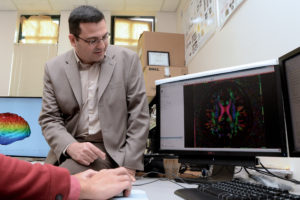 University of Louisville researcher Ayman El-Baz, whose work blends artificial intelligence and medical imaging, has been inducted as a Fellow into the National Academy of Inventors. 
He and 167 other inventors from institutions around the world will be formally recognized as 2019 NAI Fellows at a ceremony in Phoenix, Arizona, in April 2020, according to a press release from the NAI.
"It is a great honor for me to be one of the NAI fellows," said El-Baz, a UofL J.B. Speed School of Engineering alum and chair of bioengineering.
At UofL, El-Baz works at the intersection of computer science and medicine. Many of his inventions use artificial intelligence to analyze medical images, allowing them to very accurately diagnose everything from Alzheimer's to kidney failure to diabetic retinopathy.
El-Baz is the sixth UofL inventor to be inducted into the NAI, following Suzanne Ildstad and Kevin Walsh (2014); William Pierce (2015); Paula Bates (2016); and most recently, Robert S. Keynton (2017).
"We're very proud of Ayman, and all past UofL inductees, for this huge accomplishment and all the hard work behind it," said Allen Morris, executive director of the Commercialization EPI-Center. His office works with UofL researchers, like El-Baz, to commercialize their inventions. 
"This kind of honor shows our university's commitment to and leadership in research, invention and technology commercialization," he said. "These inventions have the power to change and improve the way we work and live."
Aside from the EPI-Center, El-Baz has also worked with other UofL programs for technology development and commercialization. He was the first researcher to hit a "trifecta" with UofL's suite of prestigious translational research grants, having earned entry into the UofL Coulter Translational Partnership, NSF I-Corps and NSF AWARE:ACCESS programs.
"These crucial support mechanisms have enabled me to develop and translate technologies from ideation to commercialization quickly," El-Baz said.
To date, El-Baz holds eight patents, five copyrights and has had 11 technologies optioned and two have been licensed to companies for further development and commercialization. Some technologies have also resulted in startup ventures like Autism Diagnostics Technologies Inc., which El-Baz co-founded, creating jobs and economic development. 
NAI fellows hold a collective 41,500 issued U.S. patents, resulting in 11,000 licensed technologies and companies, generating more than 36 million jobs and $1.6 trillion in revenue, according to the release.
"I am so impressed by the caliber of this year's class of NAI Fellows, all of whom are highly-regarded in their respective fields," NAI President Paul R. Sanberg said in the release. "The breadth and scope of their discovery is truly staggering. I'm excited not only see their work continue, but also to see their knowledge influence a new era of science, technology, and innovation worldwide."