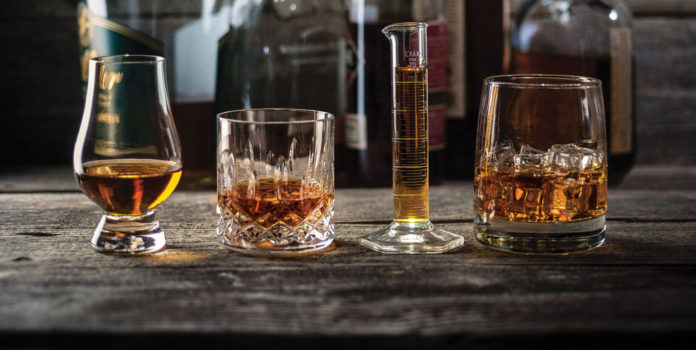 Andrea Wilson always wanted a career in the bourbon industry. With the resurgence of Kentucky's signature spirit, the UofL-trained chemical engineer was able to snag her dream job after nearly 20 years of working.
Wilson (96GS, 97GS) is the Michter's master of maturation, a relatively newer title for anyone — woman or man — in the Kentucky bourbon distilling industry. Wil­son works hand-in-hand with the distillery's master distiller to ensure the aging process of the barrels is doing its part to end up with the exact bourbon they have in mind.
Marianne Barnes also graduated from UofL with a chemical engineering degree. She expected to find work in biofuels, but instead is helping bring an abandoned Kentucky distillery back to life.
Barnes (12S) became the first woman since Prohibition to be named master distiller in Kentucky when she joined Castle & Key in 2015. Her job is to come up with the products that will revive a long-abandoned spirits company and distillery in Frankfort that is being meticulously restored.
Joyce Nethery used her chemical engineering training to work in indus­trial distilling, teach high school and become chief financial officer of a dairy farm. But when she combined her education with her passion for heirloom vegetables, she put a new Kentucky artisan distillery on the map.
Nethery (85S, 87GS) is the master distiller and co-owner of Jeptha Creed Distillery in Shelbyville. Jeptha Creed sold out of its first tiny batch of bourbon and makes flavored moonshine and vodkas. Next year, another bourbon will be ready. The Nethery family uses an heirloom corn called "Bloody Butcher" that they grow themselves on their farm.
Katherine O'Nan will graduate in May with her degree in chemical engineering. She interned at Michter's under Wilson and Heilmann. Thanks to her Brown Fellowship, she also had an opportunity to travel to Scotland, then to Canada, to see how they made their whiskeys. Following in the footsteps of Wilson, Barnes and Nethery, she is poised for a promising career in an industry that 40 years ago wasn't on the radar for female graduates of UofL's J.B. Speed School of Engineering.
Read Four Degrees of Distillation, the full story of a quartet of Speed School women who are the engineers behind Kentucky's best bourbons in the Winter/Spring 2018 edition of UofL Magazine. The full issue is available here.