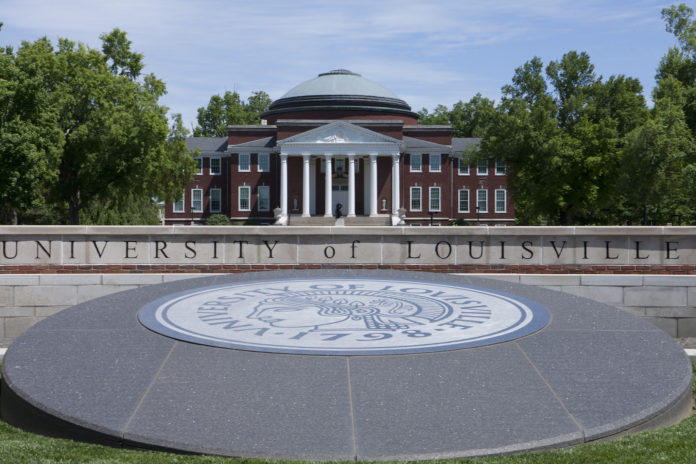 In early June, the city of Louisville announced a new partnership with Microsoft to explore the future of artificial intelligence. As part of this collaboration, Microsoft will work with pre-school through higher education providers, including UofL, on digital literacy training with an objective of closing the digital skills gap.
As Microsoft establishes a physical location downtown, the city will serve as a sort of urban laboratory to strengthen Louisville's core industries like health care and manufacturing, which face a risk of automation from the progression of AI technology. The AI Innovation Digital Alliance with Microsoft, in part, will help companies in vulnerable industries re-skill and up-skill their workforce to meet the changing economy.
"We are so excited to partner with Microsoft and Mayor (Greg) Fischer to leverage our workforce, prepare students for the future and strengthen our vital town-gown relationship," UofL president Neeli Bendapudi said during the June 7 announcement. 
The Microsoft news came on the heels of the April announcement that UofL will partner with IBM to establish an IBM Skills Academy focused on digital learning and technology skills. It will be housed in a newly-created Center for Digital Transformation on the Belknap Campus and will open by the start of the fall semester.
Similar to the Microsoft partnership with the city of Louisville, IBM's partnership with UofL will cover fast-growing technology areas like AI to bridge the growing digital divide.
"It's important for us to be nimble with this, to be truly transformative, and to say, 'We see what's coming, how can we be proactive?'" Bendapudi said. 
These efforts are catching plenty of attention. Last month, Louisville Business First devoted its cover story to UofL's position to be the impetus behind Louisville's tech transformation. As an example, the story spotlights UofL's Bucks for Brains program, which has yielded a number of innovations from the nation's top researchers and scholars who have been recruited through the program since its inception in 1997.
Success stories from the program include Cellular Therapeutics, a research group created by Dr. Suzanne Ildstad in the late 90s dedicated to developing a technology for organ transplantation. Cellular Therapeutics' iteration, Talaris Therapeutics, secured a $100 million investment in April, which will go toward a unique cell therapy technology that improves the lives of kidney transplant recipients.
"Ildstad's story is the embodiment of the kind of high-impact, transformative work that happens when investments are made in UofL's mission as the only public research university in the city," Business First says.
Such tech-focused efforts are being noticed nationally as well. In May, Forbes published a story titled, "Four Reasons Why The University Of Louisville's IBM Skills Academy Is A Very Smart Move," touting the mutual benefits between the university and its corporate partner.
According to Forbes, the partnership helps address the continuing digital divide and boosts economic development in the area. It is also expected to provide a recruiting advantage for the university.
"College students express two major motives for pursuing their education – to prepare themselves for a good job and to gain knowledge so they are broadly prepared for a successful life," the story says. "The IBM Skills Academy at the University of Louisville offers one path to help synergize the two main purposes of college. Students can acquire marketable technology skills at the same time they benefit from the broader education that good universities provide."
In June, Forbes piggybacked off this idea with another article illustrating the Business-Higher Education Forum, a nonprofit membership organization comprised of Fortune 500 executives, major university presidents and other educational leaders. Once again, the IBM/UofL partnership was highlighted as an example.
"American businesses are increasingly taking the lead in developing and 'up-skilling' their workforce in critical digital and technological competencies. Whether it's through increasingly generous employer-provided educational benefits … or through specific company-university partnerships like the University of Louisville's IBM skills academy, the rise of business-directed and employer-supported curricula is one of higher education's most noteworthy trends," the story says.
Such efforts were also highlighted in national trade publication Education Dive in June, which focused specifically on how the university is helping the city of Louisville bring tech training to scale. The story spells out the need for such work, noting that Louisville has just 79% of the technology jobs it should have for a city its size. In the past decade, Louisville has added just 17,000 jobs in the professional scientific technical services industry, for example, compared to Nashville, which added 75,000 such jobs. 
Based on estimates, the city of Louisville would need to add about 1,500 jobs annually for four years to catch up. This is why UofL is stepping up.
In addition to corporate partnerships, UofL is also sharpening its focus on commercialization. For example, in May, the university hired three entrepreneurs-in-residence to help guide research-backed invention to market. 
UofL ranks as one of only 120 U.S. "Research 1" universities with "very high research activity," according to the Carnegie Classification of Institutions of Higher Education. The EIRs will amplify UofL's existing efforts aimed at getting technologies born from that research to market, which include a "superfecta" of translational research programs.
Funding for the EIRs comes from the Louisville Entrepreneurship Acceleration Partnership (LEAP), another public-private partnership led by UofL and backed by the Kentucky Cabinet for Economic Development.
LEAP was launched in December. During the launch, President Bendapudi noted the objectives for LEAP were to commercialize university research, enhance the region's reputation for innovation, grow jobs and economic development and build the next generation of leaders.
Of course, this is just the tip of the iceberg of all the work on campus that has gone into helping transform the city and the region into an innovation hub. There is also the impact that Giddy, the Hive, FirstBuild and others have made.
In September, UofL will team up with GE-backed FirstBuild to host a Maker Faire, which will include exhibitions, competitions, workshops and more. According to Kevin Nolan, CEO of GE Appliances, the Maker Faire will be the largest gathering of inventors, creators and makers that this city has ever seen. Mayor Greg Fischer added that the event will help the city thrive and grow. And, as all of this progress is happening, the University of Louisville is at the center of it all.