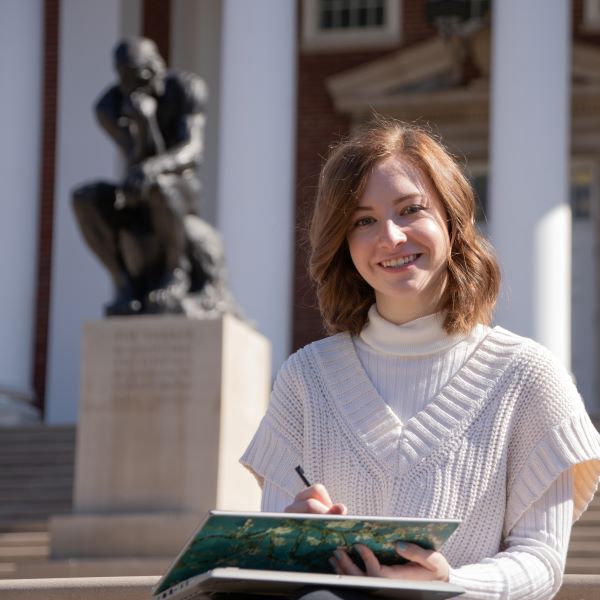 Even though she'd always excelled in math and science, Lauren Reinersman was leaning toward a career in creative writing. But a Speed School alum's visit to a leadership summit at her high school made her start thinking about engineering. 
"The alum, she talked about her experiences in leadership at GE Aviation, and she kept repeating they needed engineers who could communicate," said Reinersman. "I thought, 'Well I can communicate and I could learn the technical information, and I would be filling a need.'"
From there, she attended a GE Explore Engineering series through her school that further piqued her interest in the field.
"They just did a really good job of explaining the types of engineering and the roles that they had within the company," she said. "I also liked the idea of having a professional career where I would dress up to go to work and interact with clients and apply technical knowledge."
A native of Northern Kentucky, Reinersman graduated Speed School in 2021 with her BS in Mechanical Engineering. She is now pursuing her Master's in ME as well, with an anticipated graduation in July 2022. She will also have completed an Environmental Engineering Certificate. Reinersman will be one of the first students to graduate focusing on the newly offered Global Engineering Track.
As part of that focus, she traveled to Germany as a foreign exchange student in high school and participated in an International Service Learning program in Peru in 2019. In addition, the track requires 30-plus hours of cultural growth and awareness activities, and six credit hours on cultural diversity. Reinersman is also the current president of Engineers Without Borders & Water Professionals Joint Chapter.
She said her experience in Peru solidified her avid interest in water and sanitation issues, while she also learned lessons about the nature of community.
"We were working with a nonprofit organization called the Andean Alliance for Sustainable Development, and they just had an amazing working relationship with the community, living there full time in Peru and learning the native language," said Reinersman. "They respected the community and they worked really hard to gain and maintain that trust, and because of that, they were able to fully understand the context of the issues that the community was experiencing, the history on how those issues came about, and could truly work together as a team to solve those problems."
Between participating in regional Engineers Without Borders conferences and attending Water Professionals conferences, Reinersman said those experiences influenced her decision to focus on water.
"Ultimately, everyone needs clean water and it's a huge impact on peoples' quality of life," she said.
Currently working as a part-time researcher at the Christina Lee Brown Envirome Institute, Reinersman recently accepted a full-time job at HDR Engineering for August 2022, a job she said is in her 'dream industry.'
"Part of the reason I was able to get that offer was because of the Environmental Engineering certificate," she said. "I am looking forward to moving back home to the Cincinnati area to make a difference in the water sector there."
Reinersman said Speed School has given her opportunities and skills that shaped her career path. She remembers coming as a freshman to her student orientation at Speed School and immediately feeling at home.
"UofL is a great school; it's small, but still has all of the big school perks. There's a sense of family, like we're all in this together," she said. "[The Speed School has] given me confidence to move forward with my plans and dreams."