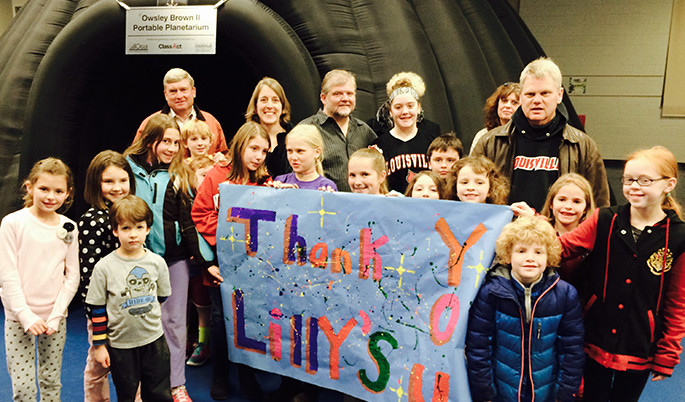 Red planet trout, braised meteorite short ribs and rings of Saturn doughnuts are just a few of the items on the menu at Lilly's Bistro Nov. 19 as part of a UofL Gheens Science Hall and Rauch Planetarium fundraiser.
gAstronomical Delights is an event that raises money to send the Owsley Brown II Portable Planetarium to Bloom Elementary School. A percent of all sales from Lilly's and affiliated eatery La Peche Gourmet-to-Go will go toward the cause
"This is the second year for this fundraiser and we are having so much fun with it," said Lilly's owner and chef Kathy Cary. "We are excited to do our part to bring the mobile planetarium to Bloom Elementary."
"What's not to love about this event? It's fun, it celebrates science, it raises money for a good cause and the food is incredible," said Thomas Tretter, who directs the university's planetarium.
Diners also can choose specialty cocktails such as the Bill Nye the science rye; Interweller; and Milky Way.
Patrons of Lilly's during the dinner hours can look through telescopes set up on the sidewalk in front of the restaurant, weather permitting. The telescopes and viewing tips are offered by the Louisville Astronomical Society. Organizers say the event is meant to celebrate the legacy and birthday of former Highlands resident Edwin Hubble.
Lilly's is at 1147 Bardstown Road and hours for the event are 11 a.m. to 3 p.m. for lunch and 5 p.m. to 10 p.m. for dinner. The fixed price menus are $19 for lunch and $45 for dinner.  Lunch items are star fruit salad, red planet trout with vegetables and rings of Saturn doughnut. Dinner will be heavenly lobster bisque, braised meteorite short ribs and Milky Way Galaxy panna cotta.
Reservations are recommended but not required and can be made by calling 502-451-0447. For more information contact Paula McGuffey at 502-852-5855.