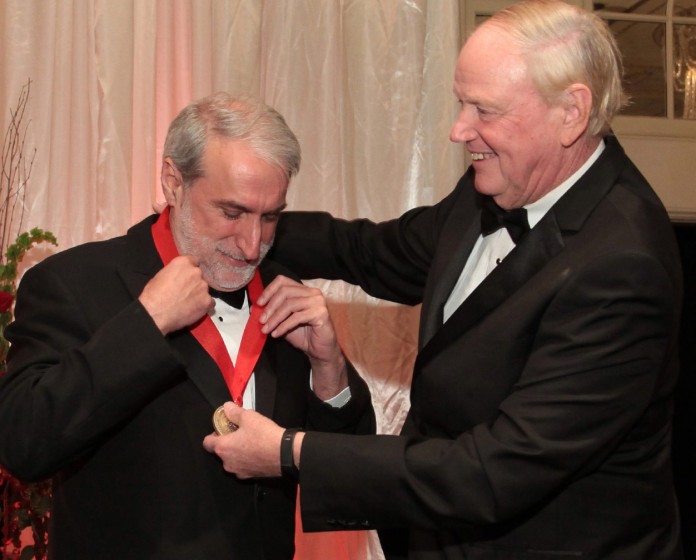 The University of Louisville on Monday presented its 2015 Leigh Ann Conn Prize for Renewable Energy to Daniel Nocera, a world-renowned chemist and professor from Harvard University.
The $50,000 prize, which is managed by the Conn Center for Renewable Energy Research at the J.B. Speed School of Engineering, recognizes outstanding renewable energy ideas and achievements with proven global impact.
Nocera, the Patterson Rookwood Professor of Energy at Harvard, has found a way to convert sunlight into chemical fuel, much in the same way that plants create energy through photosynthesis. He's also a leading researcher in the effort to create a flow battery that stores solar power.
In August 2014, Lockheed Martin purchased the assets of Nocera's company, Sun Catalytix, and is fast-tracking his flow battery technology.
Nocera received his prize from UofL President James Ramsey during a black-tie gala at Louisville's Brown Hotel. The award, first presented in 2014, is named for the late daughter of Hank and Rebecca Conn, who are center supporters and the prize benefactors. The inaugural prize was won by Michael Graetzel, developer of the dye-sensitized solar cell.
The Conns helped create the Conn Center with a $20 million pledge. They also have endowed scholarships and faculty positions at the Speed School.
Nocera will give a free lecture about his work from 3 p.m. to 4:30 p.m. on Wednesday, March 9, at Rauch Planetarium. Faculty, staff and students are invited.