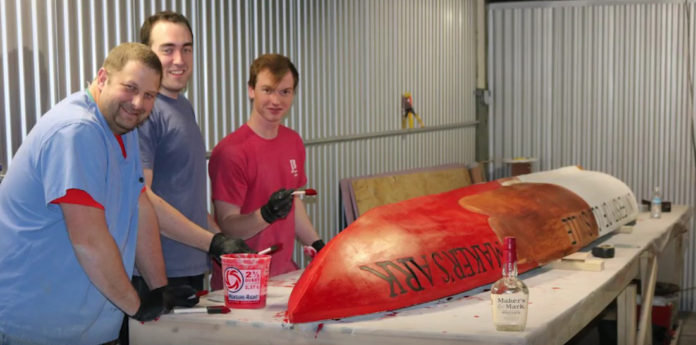 Why would anyone build a concrete canoe? And if you were to build one, how would you make it float?
Well, civil engineering students at the University of Louisville built a concrete canoe and figured out how to make it float as part of a competition with students from other engineering schools in the region. They're all student members of the American Society of Civil Engineers, applying what they've learned in the classroom to real life projects.
The president of UofL's student ASCE chapter, Dawn Dunaway, says the Cardinals competed in concrete canoe, steel bridge and other categories, finishing in the middle of the pack at the competition at The Ohio State University.
"It's the one time a year that we get to put all of our coursework together and actually go out and have fun and show people what we've learned," she said.
Tom Jones' concrete canoe building team spent hundreds of hours on its "labor of love," filling the 280-pound vessel with just enough foam to make it float and hold 300 pounds. They called the hand-painted canoe "Maker's Ark," getting clearance from the famous Kentucky bourbon maker of a similar name.
The steel bridge team also spent hundreds of hours designing, managing and building a 20-foot bridge that could be scaled up to a 200-foot real bridge. The idea in competition is to construct a bridge that could carry the most weight quickly and efficiently.
"Seeing your cool projects come to existence, that's pretty much what we're doing" said Joe Dionisio.
Check out more of these students' story below: