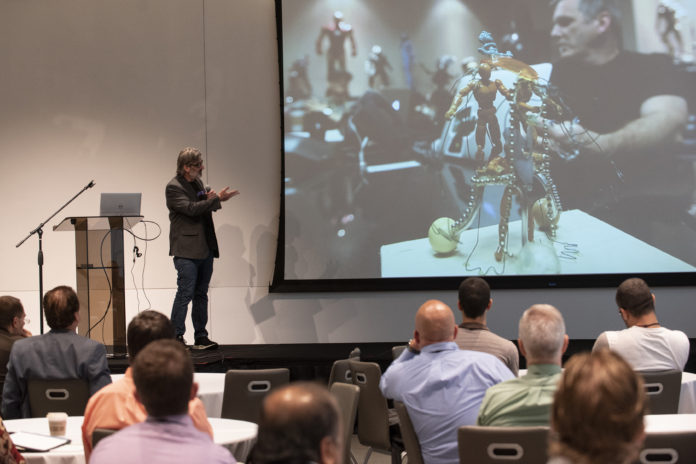 Nanotechnology and 3-D printing can be used for all kinds of things — to quickly and cheaply create prototypes, for example, or to make machines smarter.
And, if you're Jason Lopes, you can use them to create a working "Iron Man" suit for actor, Robert Downey Jr., or a life-size replica of soccer superstar, Cristiano Ronaldo.
"It's called pushing the boundaries," said Lopes, who worked in film special effects before joining technology company, Carbon. "When people tell you no, use that as inspiration to show them how it can be done."
And to push those boundaries, universities and industry can accomplish more by working together. That was the subject of the 2018 Kentucky Nano + AM Symposium, held Aug. 1-2 at the Speed Art Museum on UofL's Belknap campus. Lopes was the first keynote speaker.
The inaugural conference, themed "Strengthening Industry Collaborations with Academia," focused on collaboration in advanced manufacturing fields, including additive manufacturing and micro/nanotechnology.
"Universities play a critical role in the advancement and application of these technologies for industry," said Dr. Kevin Walsh, associate dean of research at UofL's J.B. Speed School of Engineering, who led the organizing committee. "Our goal was to bring both sides together, and showcase the innovation generated by that collaboration."
The event was a partnership between UofL and the University of Kentucky. Together, they offer a collection of advanced manufacturing core facilities open to industry and academia, called the Kentucky Multi-Scale Network. 
Kentucky Multi-Scale is part of the National Science Foundation's National Nanotechnology Network, which consists of 16 academic sites across the U.S. with similar advanced core facilities.
At UofL, those facilities include the Micro-Nanotechnology Center (MNTC), the Rapid Prototyping Center (RPC), and the Conn Center for Renewable Research. Those facilities work with industry on a variety of projects, from brewing beer in space to saving energy when manufacturing cement.
This goes to show that the potential applications for nanotechnology and 3-D printing are broad, and can impact diverse industries — from space travel, to manufacturing, to medicine, to movies.
Lopes, for example, has also used 3-D printing to create a giant sneezing monster for Comic-Con and light-up mohawks for Katy Perry.  Now, he's working with the dental division at Carbon to make better dentures and embedding tracing technology into 3-D printed sneakers.
"This is what excites me," Lopes said. "Embedding the technology inside all of this."
And Walsh said combining these technologies, as in Lopes sneakers, could lead to more innovation. For example, he said, future human prosthetics and implants could be both 3-D printed, and contain sensors so they're smarter, safer and function more effectively.
"But for that to happen, we need the micro/nano community to be fully engaged with the additive manufacturing community," he said. "This symposium provides that opportunity and we plan to offer it every year."