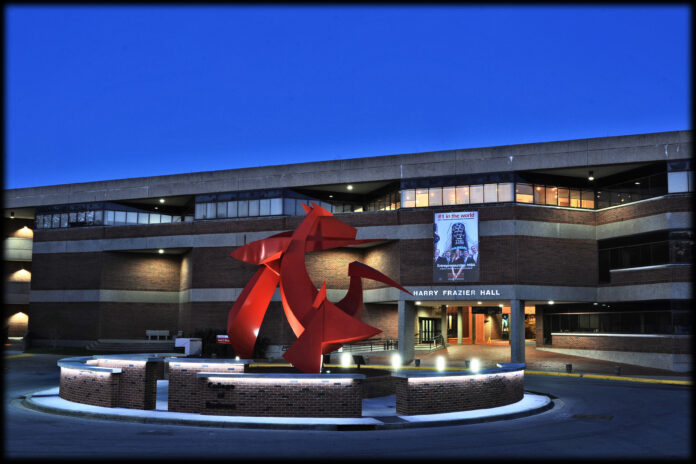 UofL's Staff Senate met using a hybrid format on July 13. Staff senators received information on recent improvements to campus safety as well as an overview of the record setting year from the University of Louisville Foundation.
Chief of Police Gary Lewis provided senators an overview of the current state of campus security. Lewis reported that the number of security cameras across UofL has nearly doubled over the past year. In addition to the increase in number, many of the new cameras are more advanced and offer a wider range of visual coverage. Lewis also informed senators of the continuing effort to standardize access control among all university campuses.
"On Belknap campus, only about 60% of the campus is access controlled. Health Sciences Campus is 100% access controlled. We're improving some technologies [on Belknap] so that card readers will be able to provide you with the ability to gain access entry into all buildings," Lewis stated. "Our goal is 100% access control on Belknap campus similar to HSC."
Senators were also introduced to Kari Aikins, the recently appointed director of Total Rewards. Mary Elizabeth Miles, VP of Human Resources, informed senators that Total Rewards encompasses retirement, compensation and benefits. Aikins will also serve as co-chair for UofL's Compensation and Total Rewards Studies.
Keith Sherman, chief operating officer and executive director of the University of Louisville Foundation, provided senators with an overview of the foundation's record-setting portfolio. The UofL Foundation and the UofL Real Estate Foundation boasted combined Total Assets of just over $1.3 billion, the highest in the history of both foundations. Total Endowment Assets also reached an all-time high at $922 million. The main endowment pool, which serves as the source of nearly all available endowment funding across the university, also reached a record $817 million as of July 12.
Sherman stated, "We saw 33% returns in the stock market through May; for perspective, our goal is 6.2% a year. Over the last year, we've returned five times what we expect to get in the marketplace, which is unbelievable. That 33% return for an endowment will probably put us in the top 10% of all endowments across the country."
Sherman credited the overwhelming growth of the main endowment pool to several changes made by the foundation over the past year.
"We made a lot of changes this year. We changed investment advisors, we changed our investment strategy, we simplified things and sometimes it is just important to be good as well as lucky. We made some good, thoughtful decisions and when the market went crazy after the COVID-19 drop last March, we were perfectly positioned to maximize our returns," Sherman said.
Committee reports and a full video recording of the virtual meeting can be found on the Staff Senate Meeting page.
The Staff Senate will not meet during the month of August in order to provide orientation for the 21 first-time Staff Senate representatives. The next Staff Senate meeting is scheduled for Sept. 8 via a hybrid format with the option of remote attendance via Teams, or in-person attendance at Ekstrom Library's Chao Auditorium.