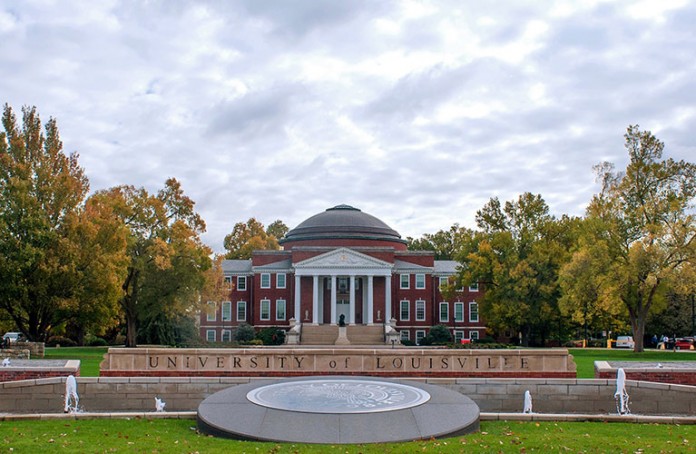 UofL's Staff Senate met Oct. 9 on the HSC Campus, where interim president Dr. Greg Postel provided a report on a number of issues happening around campus, acknowledging that it's been a tough year but the administration is focused on "what we are about."
"Athletics is such a small part of who we are, I think it's 3 or 4 percent of the university's budget. My job is to be looking out for everyone, for all of our programs," he said. "What kind of job would I be doing if I was just focusing on 3 percent of the business all the time? Sadly, these past couple of weeks, I've had to do that more and I don't like that. But we'll get it back in balance, I promise you."
Postel said there is plenty of positive news from UofL, including Dr. Roberto Bolli's $13.8 million grant to study a promising new heart failure treatment, the UofL Foundation's 12-percent gain on endowments through good investments, a positive visit from SACS, and a positive visit with the law school from the American Bar Association.
"The work of the university goes on. The front page of the newspaper doesn't stop our focus," Postel said. "What I am focused on is how to construct a good budget, especially in the context of what does and will come from the state."
Postel said just 4.5 percent of UofL's budget comes from the state and that number will likely be cut further to help with the pension crisis. To lessen the blow, administrators are looking at different scenarios that could play out in the next year, and trying to come up with more ways to generate revenue.
"This is why I'm so interested in holding open forums around campus. We're trying to find out what's important and what needs to be prioritized. The challenge will be how to grow revenue and we'll be trying to get as much feedback from as broad of an audience as we can for those ideas," he said.
Postel took questions from the senators, including why the presidential search is a closed search.
"I hope you know I am not being consulted about this. But I do think both open and closed searches are common and I think the logic is purely to not lose a good candidate, though I agree that it's in stark contrast with shared governance," he said.
Postel was also asked for a budget update, noting that many ideas have already been implemented by interim COO Lee Smith's office.
"He is saving about $1 million a month in operational costs and much of that savings has come from ideas that were submitted by faculty and staff," he said.
Postel was asked about how many RIFs have taken place since the beginning of the year, and that number is 103. A majority of job loss has been voluntary through attrition, he noted. He also mentioned that the hiring freeze is now considered a frost.
"The key is, whatever we call it, that we're judicious about hiring, that we're being smart with our resources," he said. "Everyone who leaves doesn't necessarily need to be replaced."
Report: John Elliott, interim AVP for HR
John Elliott provided a report from HR, noting that Open Enrollment is Oct. 16-26 and notices and communications are out. He also provided the following updates:
The RIF temp pool is now operational.
The COO search is now posted and the committee is in place. There are "seven or eight" candidates.
He has received many questions about the performance evaluation document. "It is long and tedious. I'm not sure if we'll get the committee together and changes made before this year's evaluations, but I hear you on this," Elliott said.
He said there was a RIF in HR and the department is going through a reorganization to combine compensation and benefits into one function.
The Staff Recognition Luncheons are scheduled for Oct. 20 and 27 and will be facilitated by Will Armstrong and Vickie Tencer.
"I am two months into the job and I am trying to meet as many people as possible to help me prioritize what we need to focus on in the coming year," Elliott said.
Committee and general reports
The Senate meeting opened with a report from Vice Chair Vickie Tencer, who said there have been several board meetings. Also, the CFO search is ongoing.   Eight candidates have been interview, and the Staff Senate has provided a recommendation to Dr. Postel. Her full report is online.
The Credentials and Nominations Committee is finalizing goals and objectives and noted that a fall cookout last week was well attended.
The Policy and Economic Development Committee reported that the RIF policy was posted in September, extending the policy to 18 months and giving preference to RIF candidates. The committee is also working on an internal hiring policy to send to HR, and a shared leave initiative. Other initiatives in the works include a telecommuting policy – UofL does not have one currently – and flex scheduling. The telecommuting policy is in line with the 21st century initiative to enhance campus climate. It could also contribute to a reduction in UofL's green footprint and add productivity. The policy recommendation is available online.
The Grievance Committee is planning training for the year and establishing a relationship with the new ombudsman, Mindy Eaves.
The Staff Morale and Community Outreach Committee has a new website that needs more content and an FAQ page, which are in the works. The committee is also planning on a staff recognition page, and is working on bylaws to better define the committee's work.
Chairman Will Armstrong provided the Chair's Report, noting that the CFO search is down to seven or eight candidates, and a committee has been formed for the VP of Enterprise and Risk Management. He also commended the PED committee for its "incredible work" and relationship building efforts with John Elliott. Armstrong reminded senators about the anonymous feedback section on the Staff Senate website.
"A lot is going on at UofL right now and that feedback will help guide me to speak for you through all of it," he said.
Finally, Armstrong said the budget advisory committee is starting to morph into more of a committee focused on strategies instead of a workgroup formed in response to the budget deficit.
The next Staff Senate meeting is Nov. 13, 2:30 p.m. in Chao Auditorium, Ekstrom Library.