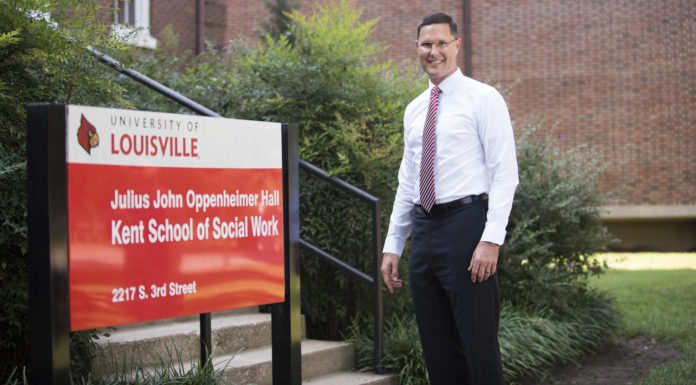 David A. Jenkins, PhD, LCSW, is the newly appointed Dean of the Kent School of Social Work. He previously served as the Social Work Department Chair at Texas Christian University and MSW Program Director, and was also a professor at TCU since 1991.
Jenkins was selected as a Hartford Faculty Scholar in 2007 and an ACE Fellow through the American Council on Education in 2010. He has served on the Council on Social Work Education (CSWE) Board of Directors, co-chair of the CSWE Council on Sexual Orientation and Gender Expression, and as a member of the Council for Diversity and Social and Economic Justice, the Council for Leadership Development, and the Council on Conferences and Faculty Development.
Jenkins received his BS and MSW from Louisiana State University and his PhD from Florida State University. He took time out of his busy schedule to talk to UofL News about how he ended up at the Kent School, his goals as dean and his love of tennis. 
UofL News: What was the trajectory that led you into social work?
Jenkins: I grew up believing I was going to become a medical doctor, but learned in college that this was not a good fit for me. Not knowing much about options for study, I picked Business Administration as my new major. My father had newly acquired a business and I believed I might find some success working with him. After I had worked at the business a few years, my father decided to sell the business and I was again left wondering where to proceed. I decided to get some career testing and was encouraged to look into the field of Social Work. Having never really heard much about it, I went and interviewed a few people who were social workers. I quickly realized this was a good choice for me and soon enrolled in graduate school.
UofL News: What practice experiences did you have prior to moving into education and administrative roles?
Jenkins: My Social Work practice experience has been mostly clinical. My specialization is in family therapy.  I have often been interested in what micro practice therapies are effective and how best to intervene with clients. I worked in a marriage and family clinic, a group practice, and also in a family service center. I ran a drug and alcohol treatment facility and I also had my own counseling private practice.
UofL News: Any particular populations of interest, research areas of interest?
Jenkins: Much of my research has focused on the marginalization of individuals and families. I have a particular interest in the lived experiences of gays and lesbians in their families. A related, newer project that has been rewarding is one where we are interviewing older transgender adults about their relationships.
UofL News: What attracted you to the Kent School?
Jenkins: Actually, many things attracted me to the Kent School. I knew Terry Singer (the previous dean of the Kent School) and a couple of faculty members who all spoke highly of UofL and encouraged me to apply for the open position. I knew I wanted to find a place that valued both teaching and research and believed the Kent School did a nice job balancing these areas. I was attracted as I read that many of the faculty were extremely productive and were making an impact in their areas of research. Having a background in family therapy, I was attracted to the CFT (Couple and Family Therapy) Program at UofL. I had also visited Louisville in the past and liked the city. I was raised in the South and Louisville had a lot of the charm and feeling of my upbringing. All of these things attracted me to the Kent School.
UofL News: What have you identified so far as your general plans for the Kent School?
Jenkins: Probably the easiest way to summarize what I would like to do is to raise the profile of the Kent School. I think we have an excellent series of programs, and I want to join the efforts of the faculty and staff to strengthen each of our programs. I am convinced that more people need to know about the great things happening here at the Kent School. I'm also trying to get to know the faculty and staff better and see if my early impressions fit with what they believe needs to happen at the school.
UofL News: What do you love so far about Louisville?
Jenkins: Coming from Texas, my family and I have greatly enjoyed the summer weather. To me, this has been a mild summer. I have also enjoyed learning about and experimenting with all of the excellent places to eat. I do enjoy the friendly people of the city. Everyone has been extremely kind to us since we arrived.
UofL News: What do you like to do in your spare time?
Jenkins: My husband, son, and I are all big fans of tennis. We like to play as often as possible. We also enjoy traveling. Whether I like it or not (and I mostly like it), fixing up our home has become a big part of my spare time.