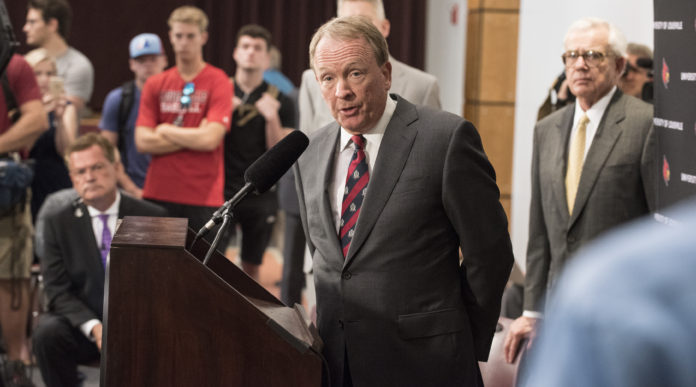 Dr. Greg Postel and Dr. Dale Billingsley were both recognized for their service as interim president and provost, respectively, with a reception and a certificate of appreciation during the May 2 Faculty Senate meeting.
Postel spoke briefly about his experiences throughout the past year and half as interim president, stating that he enjoyed the endless conversations and opportunities presented to him during that time.
"The past year and a half took a toll personally for me and my family, but all that said, it has been an extremely gratifying experience," he said. "I'd like to thank the campus community for being responsive to our needs."
Postel added that he has had numerous conversations with incoming president Neeli Bendapudi to help her "have a soft landing."
"She is engaging, bright, fun to talk to and I think she will be a pleasure to work with," he said.
Postel has compiled a transition document for Bendapudi that includes 195 active topics.
"She is not coming to the university in a time of full-blown crisis, but she is coming to a campus that has an awful lot of needs. Those needs are challenging. They will require year over year attention. She deserves and needs the full support of the university, the city and the state to move the needle," Postel said.
Postel also touched on the state budget process, noting that the proposed 6.25-percent cut is disappointing, but some of it is offset by performance funding and cancer research.
"Still, we have to remain sharply focused. There is a pervasive attitude in Frankfort that higher education is bloated and we are forced to become lean – too lean in some areas," Postel said. He submitted a list of priorities UofL needs to focus on to be transformational, including enhancing liquidity, retaining and recruitment of students, establishing a Phi Beta Kappa chapter, asset preservation and more.
"These are not in the budget. The budget is balanced right now, but that doesn't include these things, which we need to move forward," Postel said. "We have to focus on revenue generation – re-gaining the trust of our donor community and student recruitment. We're past the crises, but we still have some heavy lifting to get to where we want to be."
Billingsley said the CPE has approved a 6-percent ceiling on tuition increases for the next two years. If the board refuses a tuition increase, UofL will have to implement budget contingencies again, noting that enrollment increases will continue to be critical.
A new, electronic faculty evaluation system has been proposed that aims to make the process easier and save money. Miami of Ohio implemented a similar system and realized an 80-percent saving of faculty time, for example. There will be a formal proposal to include this system in next year's budget.
Billingsley noted that Beth Boehm will serve as acting provost beginning in June; Paul DeMarco will be acting dean of SIGS; and Beth Willey will be interim associate provost for undergraduate programs.
Brandeis School of Law Dean Colin Crawford provided an update of the work he has been focused on since starting in that role in the beginning of the semester. These focus areas include signature programs, such as the Human Rights Advocacy Program and Central High School partnership, as well as commercial law opportunities and international programming.
CHAWS proposal
A proposal was made for a Center for Health Air Water and Soil (CHAWS), to be housed in the Cardiovascular Institute and led by Dr. Aruni Bhatnagar from the School of Medicine. CHAWS received a $250,000 annual gift for five years and is expected to be self-funded after that time period.
The mission is "to support and promote innovative, environmental research and project focused on health in all policies using the city of Louisville as an urban laboratory; to improve the health and harmony of our community by empowering citizens and using inventive technology; and to encourage new conversations and find new solutions to health challenges in our community and in our world."
CHAWS is to be part of an Envirome Institute that also includes the Center for Occupational and Environmental Health Science; the Center for Integrated Environmental Health Science; Superfund Basic Research Program; American Heart Association Tobacco Center; Diabetes and Obesity Center; Center for Environmental Engineering; Center for Environmental Sciences; Center for Environmental Policy and Management; and Center for Healthy Air, Water and Soil.
The proposal was approved by the Faculty Senate.
Geospatial Technology certificate
A certificate In Geospatial Technology was also proposed during the meeting. The 15-credit-hour undergraduate certificate complements other programs including criminal justice, engineering, anthropology and biology. It was noted that the discipline is marketable and multidisciplinary. The proposal was approved.
Other news
Enid Trucios-Haynes provided the chair's report, available online. 
Elections were held and new senate officers include:
Chair, Krista Wallace-Boaz, Music
Vice Chair, David Owen, A&S
Academics Programs Committee: Chin Ng, Medicine; David Stirling, Medicine; Clare Sullivan, A&S
Committee on Committees and Credentials: Ben Foster, Business; Rebecca Jemian, Music; Michael Tseng, Medicine
Executive Committee: Diana Chlebowy, Nursing; J.P. Mohsen, Speed
Part-Time Faculty Committee: Robert Detmering, Libraries; Robert Myers, Business
Planning and Budget Committee: David Schultz, A&S
Redbook Committee: Forest Arnold, Medicine; John Ferre, A&S; Patrick Harris, Medicine
Academic Technology Committee: Patrick Harris, Medicine
Parking Advisory Committee: Ricardo Caicedo, Dentistry
Parking Appeals Committee: J.P. Mohsen, Speed; Eugene Miller, A&S; Patrick Lai, Dentistry
Staff Senate: Christopher Tillquist, A&S
Student Conduct Hearing Board: Joseph Gutmann, A&S; Diksha Katwal, Dentistry
SGA Representative: Patrick Harris, Medicine
Student Grievance Committee: Robert Barker, Business; Meg Hancock, CEHD; Avery Kolers, A&S; Patrick Harris, Medicine; Ben Schoenbachler, Medicine