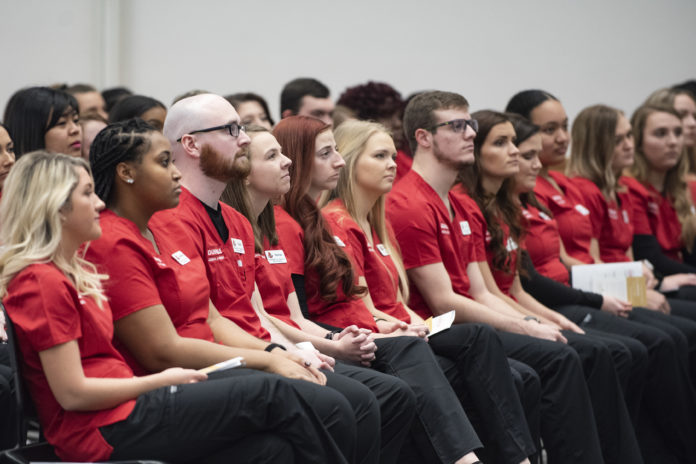 One hundred nursing students marked their formal entry into the health care profession Sunday at the University of Louisville School of Nursing's Transition Ceremony.
The ceremony signifies the advancement of future nurses from the classroom to clinical rotation learning during the final four semesters of the undergraduate program, known as the upper division. Students recited the School of Nursing Honor Code Pledge and received a pin to wear on their scrubs that serves as a reminder of their commitment to provide high quality care.
"The most important person for a patient or for their families is the nurse," UofL President Neeli Bendapudi said during the ceremony. "You are entering a noble profession."
The cohort of students is one of the most diverse the school has seen, with 31 percent ethnic minority and 19 percent male, Dean Sonya Hardin said. Men account for only 9 percent of the national nursing workforce.
Guillermo Aguirre, one of the new upper division students, said he decided to become a nurse while he was on a military deployment in Iraq in 2011. One of his friends was injured by an explosion and a young medic kept him alive until they reached the medevac.
"A nurse can go anywhere in health care, but most importantly, they have the most interaction with patients," Aguirre said. "I'm going to make a difference and help people."
During the ceremony, Brittney Corniel, a labor and delivery nurse at UofL Hospital and alumna of the UofL School of Nursing, spoke about how her passion for nursing ignited during a hospital externship after her junior year.
She cared for a pregnant patient who had been in a car accident and had an emergency cesarean section, holding the woman's hand and reassuring her that the staff would provide the best care in their power. 
A few hours later, the baby died.
"When everything settled down, the patient took me aside, thanked me for everything I had done, and said 'you're going to become an amazing nurse.' In this moment, I realized this was a job I would be able to love on the bad days just as much as on the good days," Corniel said. "As you all go through this program, you will have experiences like this. The School of Nursing will give you plenty of opportunities to serve others, and during that service, your passion for nursing will develop and lead you to what your purpose is."