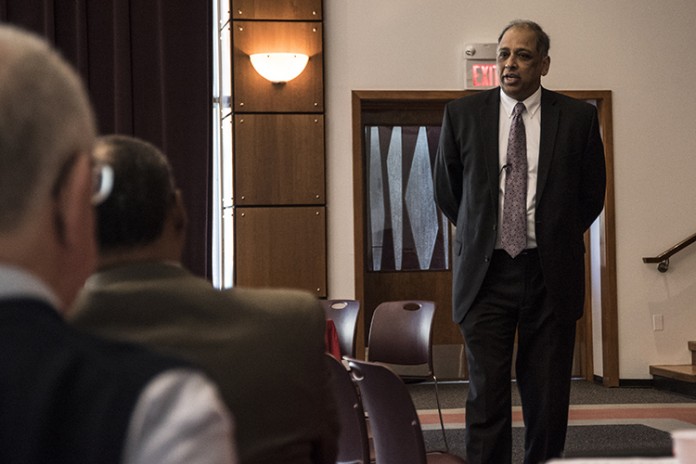 The UofL community had the opportunity to hear University Provost candidate Neville Pinto share his philosophy and his plans for UofL during two open discussion events held last week on both the Belknap and HSC campuses. Here are five takeaways from those forums:
1.) Dr. Pinto was born in Bombay, India, and experienced a childhood "as different from Louisville as you can imagine." He credits his parents for their commitment to education as enabling him to succeed.
"They invested heavily in our education and that gave me an advantage and prepared me for my future," he said.
After earning his bachelor's degree in chemical engineering in India, Dr. Pinto went on to Penn State University, where he earned his MS and PhD in chemical engineering and served as a teaching assistant. This sparked his interest in teaching as a career and he honed this interest as a professor at the University of Cincinnati before joining UofL as Dean of the Speed School of Engineering in 2011.
This was not the path he expected.
"My original plan was to come back (to India) and work with my dad on my business. But I started to love academics and gain an interest in research as a graduate student. At Cincinnati, I met students whose path was different from mine and it was a sort of an evolution once I understood my true job: exposing them to the highest level of education you can have – that's what's driven me."
2.) Dr. Pinto believes UofL exists because of the students: "They are the center of our decisions. That is how I approach my responsibilities."
He shared some strategies for student retention and student success that he hopes will enhance the university's reputation. These strategies will focus on resources and how to be strategic in investments, including with the new Student Success Center, expected to open in the new Academic Building in the fall of 2018. The building will include more open spaces, career advising and academic support spaces and more. The SAC renovation scheduled for completion at about the same time also revolves around student spaces, encouraging learning outside of the classroom.
"Student engagement is important to every aspect on campus. In that context, we have a strong commitment to success of our students," Pinto said.  
3.) International recruitment is also a priority for Dr. Pinto.
"For a university of our stature, the goal is globalization and the impact that's going to have on our students in the future is something we have to address very aggressively," he said.
The number of UofL students who have international experience has steadily remained around 800 to 900 throughout the past few years, and Dr. Pinto recognizes economic barriers in raising that number dramatically.
"There is a different way of doing this and that is to bring the world here and to have a diversified group of students peppered in with our students," he said. "International students benefit from their education here, and our students benefit from them being here as well." 
4.) Dr. Pinto was asked how to boost morale of faculty and staff on campus and he said it's important to remain focused on why we're here.
"The work we do is so important to society that we have to focus on the reason we do this. There are factors we can't control, but we can control what we choose to focus on and be energized by," he said. "It all goes back to why are we doing this – because it's important and worth it and we can make a difference." 
5.) Dr. Pinto hopes to achieve his goals by better anticipating the future and promoting education's benefits.
"Can we be known nationally for original thinking, for new paradigms that will help us change the game?" he asked. "To do that, you have to ask the big questions. What will education look like in 30 or 40 years?"
Dr. Pinto added that it's incumbent upon faculty to get out there and tell people why education is important.
"We can't just sit back and wait for the applications to come in," he said. "Universities are a big part of the engine of progress in this country. We're repositories safeguarding society's values."