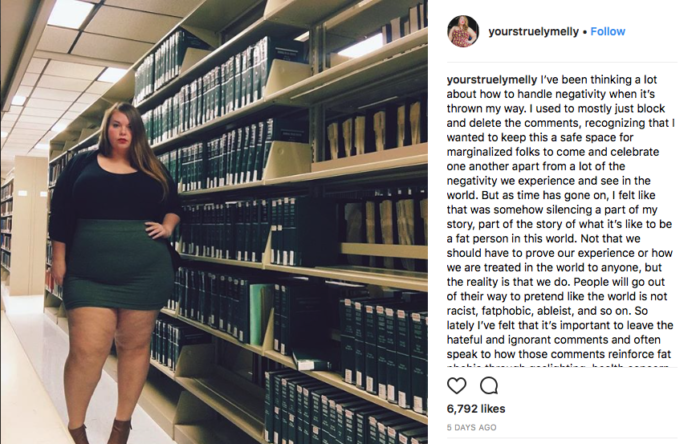 When Brandeis School of Law student Melissa Gibson started her Instagram account three years ago, she was figuring out her own body image. 
Now, with nearly 230,000 followers, Gibson is using the platform to spread a message of body positivity and spark conversations about marginalization and oppression. 
"It's beyond how I feel about myself and more about how people are treated based on what their body looks like," she said. 
Gibson, who holds a master's degree in women's and gender studies from the University of Louisville, uses her Instagram account to share scenes from her life that she translates into activism. One recent post, a photo of Gibson and her boyfriend, generated hundreds of comments and was covered in People magazine. Many of the comments were negative and stated that Gibson is too heavy to be with her boyfriend. 
"Posting pictures of myself is controversial, and the fact that it is controversial is ridiculous," Gibson said.
While she says that reading and responding to comments about her life, relationship and weight can be "emotionally exhausting," Gibson is committed to her work as a body positive activist. She says she has learned from the body positive community to see beyond her own point of view while also respecting her own experiences.
And as for her law school studies, Gibson is interested in understanding the ways that marginalization affects people.
"I want to see how that impacts people and creates injustice. We can use law for good or for evil," she said. "Anywhere that I end up as a lawyer, I'll be able to apply my previous research."