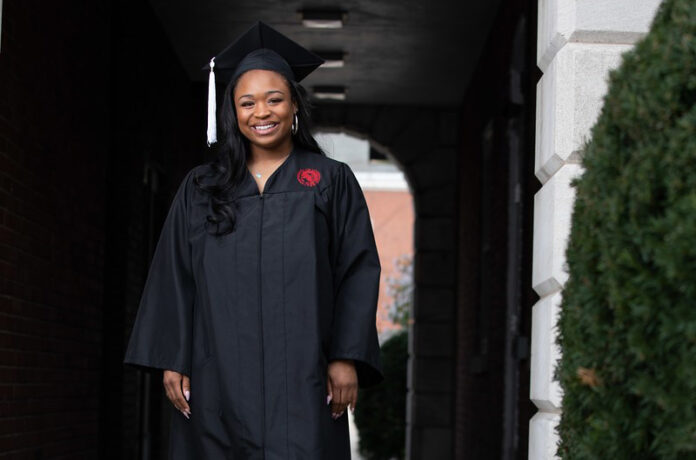 Gzeonie Hampton felt like she was coming home when she enrolled at UofL as a McConnell Scholar and a Porter Scholar.
The North Hardin High School graduate's exposure to UofL classrooms started about a decade prior when her aunt, Tanisha Thompson '06, '14, hauled her along to her courses in Strickler Hall and elsewhere.
Now Hampton's aunt and the rest of her extended family will be celebrating with her May 7, when she graduates with an undergraduate degree in political science and English and with a long-term dream of working in Middle Eastern foreign relations for the U.S. State Department.
With faith, the support of many and with the love of other special people she lost during her four-year college journey, she has made it.
"By the grace of God, this degree – I did it for them," Hampton said.
Hampton, born to teenagers, grew up in the military town of Radcliff, Kentucky. She was adopted by her grandparents at age 17 and watched over by many other relatives.
"My aunt took a big responsibility in my life," she said. "When she went to college, she made an effort to make sure I was exposed to (higher) education. That influenced a lot of my decisions."
Both Thompson, her aunt, and her husband earned UofL degrees. When it was Hampton's turn to call Belknap Campus home, she earned full-tuition scholarships and found new circles of support in the Society of Porter Scholars and the McConnell Center as well as Zeta Phi Beta sorority.
"Definitely coming back to UofL was very familiar," Hampton said. "I really enjoyed that."
As she settled into college life, she became increasingly interested in political science and international relations, minoring in Middle Eastern and Islamic studies and adding Arabic language courses to broaden her skills.
Hampton earned scholarships for international study, visited Israel and Pakistan, and won a Critical Language Scholarship, sponsored by the State Department, for summer travel to Ibri, Oman, to study Arabic.
"I love the Middle East," Hampton said. "I had a good time."
But once she returned to the United States to start her 2019 fall semester, a series of tragedies began.
Starting with the unexpected death of her father, she lost four immediate family members over a series of months, including one relative the week before her spring finals. Then COVID-19 affected Hampton's aunt's mother-in-law, who had taught her to how to cook and influenced her life; at the beginning of Hampton's senior year, she too was gone.
Under the circumstances, others might have quit on college, but Hampton felt encouragement from many fronts, including her school circles and her larger family.
Her sorority sisters have helped a lot, as have her McConnell Center leaders and fellow scholars.
"And if not for the Porter (Scholars) community, I don't know what I would have done," she said.
She thought it important to stick with her educational plan and not lose momentum by stepping away. "Once you get a cadence going, you need to grind it out," she said.
"I want people to know that while the tunnel is dark, there is light on the other side. Finish if you can – do it for everyone."
Hampton also gives credit to many faculty and staff members who supported her personally and pushed her academically. With help from several, ranging from her adviser, Luke Buckman, to her Arabic teacher, Khaldoun Almousily, to McConnell Center Director Gary Gregg, she was able to chart and stay her course at the university.
Professors David Anderson and Karen Chandler, with their expertise in African American literature, guided her also. And when she was applying for competitive travel scholarships, she received helpful guidance and editing assistance from Bethany Smith in the Office of National and International Scholarship Opportunities.
With COVID constraints derailing international travel plans, Hampton intends to work for a year before pursuing graduate studies the following year in diplomacy or international relations. But before that, she'll be celebrating commencement with "a pretty big shebang" with the rest of her family, now that most have been fully vaccinated.
Does she have any advice for other students discouraged by personal hurdles on their way to graduation?
"I would tell them, 'At the end of every storm, there is a sunny day'," Hampton said. "Ultimately, you have to pick it up and keep moving."