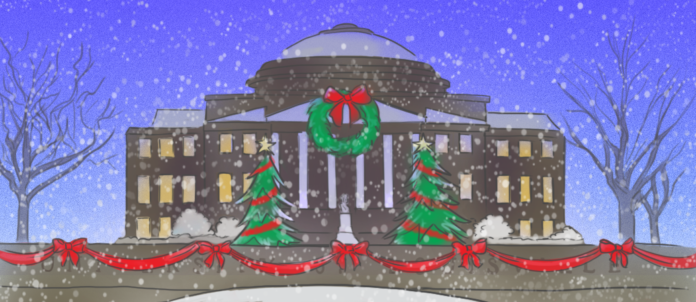 There's a reason Santa Claus likes to wear Cardinal Red. Every year during the holidays, UofL employees and students essentially take on the role of Santa's elves, spreading philanthropy throughout the community to those in need.
This year is no different. The UofL community has planned toy drives, sock drives and drives for pets and everything in between. If you're looking to earn your wings this holiday season, here are some ways to get involved.
Through Dec. 14 is the Warm Up Louisville Sock Drive. Donate a pair of new socks between 7:45 a.m. and 4:30 p.m. in the West Information Center. Those who donate will have their names entered into a drawing for a parking space located at one of the Information Centers on Belknap campus for the duration of one month. The winner, who will be announced Dec. 15, must be a current permit holder.
Donations are welcome for adults and children and will go to the St. John Center for Homeless men and the Shelter for Women & Children.
The Institute for Sustainable Health & Optimal Aging is also collecting socks this season and invites UofL faculty, staff and students to join them in collaborating with the 2018 Leadership Louisville Ignite Class for its intergenerational and festive "Sock it to me" Challenge. Festive socks for infants to adults are being collected for Norton Healthcare's cancer patients and other organizations in the Kentuckiana area.
For the challenge, festive socks with and without grips on the bottom are accepted. This challenge will also support additional organizations in the community, and socks for hospital patients must have the grips on the bottom.  Socks can be delivered to the Institute, 300 E. Market St., Suite 200, between 8 a.m. to 4:30 p.m., or to have your department or group's contributions picked-up, contact Lisa Baunach at 852-5159 or via email.  All socks must be received by December 11 at 4:30 p.m.
Collections are being taken for an Angel Tree for Homeless Animals through Dec. 18 on both campuses. Donations will be accepted in the Houchens LL Lobby on the Belknap Campus and the School of Public Health and Information Sciences on the HSC Campus.
Contact Julie Oechsli at 852-1489 or via email, or Darla Samuelsen at 852-2797 or via email for a list of items needed.
The Brandeis School of Law is collecting donations for the Louisville Bar Association's toy drive. Toys collected for this drive go to kids who are not chosen from Salvation Army trees; typically older kids. The LBA is picking up the donations on Dec. 13.
Finally, the College of Arts and Sciences is collecting for Dare to Care through Thursday, Dec. 14. Collection boxes are located in the A&S Dean's Office on the second floor of Gardiner Hall. Donations will be delivered to Dare to Care on Friday, December 15 at noon. If you are able to help deliver the donations and are willing to collect food donations in your office, send an email Jackie Gutterman or call 852-2234.
The 10 most needed items are peanut butter, soup, canned fruit, beans, rice, tuna, cereal, fruit juice, pasta and canned vegetables. You can also support Dare to Care with a cash donation. They can provide 100 meals for every $25 you give. Donate now.
On Dec. 9, a winter clothing drive will be held at the KFC Yum! Center during UofL's doubleheader men's and women's basketball games. Fans are encouraged to drop off coats, hats, scarves, blankets and socks. The donations will be delivered to area homeless communities. 
Two seasonal opportunities have already come to fruition to secure UofL employees' spot on Santa's "nice" list. The UofL Women's Center held a Student Parent Association Angel Tree initiative through November and early December. And, the Latin American and Latino Studies Club collected winter coats, warm blankets, hats, gloves and scarves for the Kentucky Refugee Ministries.