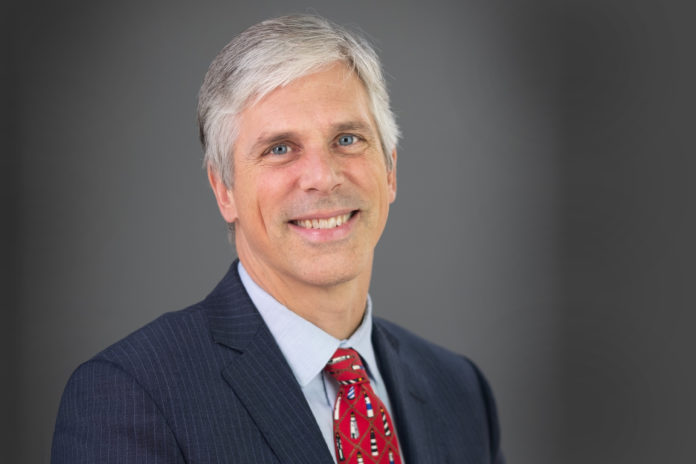 Kevin Gardner, UofL's new executive vice president for research and innovation, officially joined UofL when he was approved by the Board of Trustees Thursday.
Gardner comes to UofL from the University of New Hampshire where he served in research leadership, first as director of strategic initiatives, then as the vice provost for research.  
UofL News had a chance to talk with Gardner about his upcoming work as UofL's EVPRI.
UofL News: You're coming on board at a time when research has been identified as a top priority per our strategic plan and after a year in which we generated significant funds for research. That said, what are your top priorities and goals for UofL's research?
Gardner: It's a very exciting time for UofL in so many ways, including its efforts to expand and deepen its research portfolio. I was delighted to see the record research award numbers, and I know that there is great potential to raise these award numbers to greater levels.
My goals and priorities will necessarily be developed and shaped after I arrive at UofL and engage with many constituencies, including college deans, department chairs, faculty, staff, business and industry and government leaders. The most important characteristic of a set of priorities and goals is that they are shared. This being said, there are priorities and goals that have been expressed clearly across the UofL community. These include increasing research productivity, enabling interdisciplinary research across units, developing research grand challenges to drive the research agenda forward, and celebrating research, scholarship, and creative activity in all of its forms. One of my priorities will always be ensuring that the office of research and innovation is the best partner in the research and innovation enterprise that it can be.
While my focus at UofL will obviously be its research portfolio, it's important to note that the entire university sinks or swims together. We cannot be a great metropolitan university without attention to access and affordability, student success, strong academic programs, and staff, student and faculty well-being. These are all integrally linked and all are important.
UofL News: What do you see as the biggest opportunities at UofL specifically? What can UofL do to continue to deepen its research footprint?
Gardner: I see tremendous opportunity at UofL, which is one of the primary reasons I was so interested in this position. There are opportunities across the entire campus, in all colleges and units, and in particular in interdisciplinary research across units. UofL needs to align its research priorities from the departments, colleges, centers and institutes, and grand challenges and invest strategically to enable a deeper research footprint.
UofL News: How will you differentiate UofL's research initiatives from other R1 institutions?
Gardner: It is important for the university and its many stakeholders to understand the value of UofL research. This is one of the reasons that the strategic plan calls for identification of Grand Challenges to which UofL will commit. The Grand Challenge effort is exactly the type of work that needs to occur so that the whole UofL community understands the unique contributions that the university's research makes. I am passionate about key stakeholders broadly understanding the value that UofL brings to the community, but we must first understand ourselves the various dimensions of these offerings. It is far too early for me to make statements about how to differentiate UofL from other R1 institutions, but it is work we must undertake.
UofL News: How do you think UofL's research footprint impacts the Louisville community and state of Kentucky?
Gardner: This is exactly the type of question that needs to be answered! And there are certainly many dimensions to that answer and many different ways the university impacts metro Louisville, the state and the world. Innovations and intellectual property stimulate new business, the talented students and access to university resources attract business and industry to the region, and mutually beneficial relationships among business, the state and the university all act together to drive the economy. This is a really important question to answer with statistics but also, and perhaps more influentially, with narrative. I look forward to digging into this when I arrive.
UofL News: What made you interested in pursuing research? Can you describe your professional journey?
Gardner: For me it was always about how new knowledge is needed to address societal challenges. My background is in environmental engineering, which combined my love of the natural world with pragmatic problem-solving to address pollution and other environmental problems. For me personally, research has been a means to a world that is more just and fair in which communities can better live in the ecological limits of the world. My passion for research led to a number of leadership opportunities that I was fortunate to receive. I have had wonderful mentors along my journey to whom I feel deeply indebted; certainly they each played the most important roles in my professional journey.
UofL News: What motivated you to come to UofL?
Gardner: UofL is the most exciting university to be at right now, and I want to be a part of it. It has exciting new leadership in President Bendapudi, a strategic plan that resonates deeply with me, and a community of faculty, staff, alumni, metro Louisville and beyond that believe in the strength and potential of the institution. I could not be more excited to join this movement.
UofL News: Have you had a chance to explore the city of Louisville? What are you most excited about living in Louisville?
Gardner: I have only just scratched the surface of Louisville. I love the size of the city and the range of arts, athletics and other offerings the city has. The things I do on a daily basis include cycling and rock climbing (at a gym during the work week) and Louisville accommodates both of those endeavors beautifully. And from what I've learned, it's going to take a decade to even try all of the restaurants that have been recommended highly to me. I look forward to that as well.