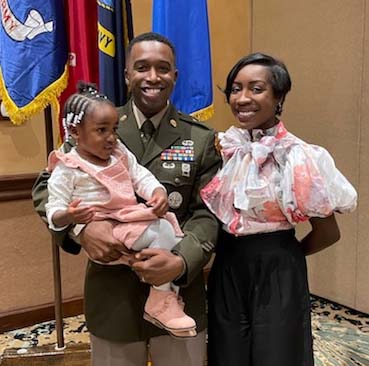 It's early December 2021, and the Leamon family find themselves unpacking moving boxes and sorting through suitcases. The ink is still wet on the closing papers of their new home in Fort Bragg, North Carolina. As December 2021 University of Louisville graduate Courtland Leamon says, this move is the next step in a natural progression through family, career and life.
Leamon completed UofL's master of arts in higher education program this past August. In September, the 11-year veteran of the United States Army completed his Airborne training, and in December he was promoted to the rank of sergeant first class.
"The Army is all about progression," said Leamon. "My courses at UofL made best sense for my ongoing service in the Army as well as my goals to work in military and veteran student services in a university setting."
His perspective is grounded in focus and practical ambition. However, Leamon's spouse, Krystle, is quick to point out that his direct, confident and humble cadence undergirds the many achievements of a "husband, dad, hero and grad."
"No matter what has transpired in Courtland's life regarding Army obligations or daddy duties, he has always risen to the occasion and exceeded expectations while striving for academic excellence," said Krystle. "I have witnessed my husband have countless sleepless nights and early mornings all to be sure he got his assignments turned in on time."
In addition to his military obligations, Leamon served as an adjunct professor at the University of Tennessee-Chattanooga while working through the UofL master's program online and raising, with Krystle, their daughter, Cereniti, who is now 3 years old. Until their move to Fort Bragg, Krystle worked for the Bureau of Labor Statistics. These circumstances made the focus on managing a healthy work/life balance a priority for the Leamon family.
According to Ishwanzya Rivers, assistant clinical professor in UofL's higher education administration program, faculty must consider this balance as they define student success. The personal and professional perspectives which students like Courtland and others offer are essential to the academic experience of the entire class.
"It's not enough for us to focus solely on coursework and course requirements because our students are more than just students, and it's the totality of the person that makes them successful," said Rivers, whose teaching interests include college access, college choice, recruitment and retention for underrepresented students. "We must be attuned to all their needs, and this starts by building relationships. We then educate students to better understand their institutions, the individuals in the institutions, and their potential responsibilities so they can achieve their goals and stated outcomes."
As the Leamon family settles into their new home, Leamon begins his service as a U.S. Army operations sergeant in Fort Bragg, where he will oversee the training and organization of 140 soldiers. Meanwhile, he will look for higher education teaching opportunities in his area and continue to pursue his goal of working in military and veteran student services.
While their schedule remains full, the Leamon family will take a pause and travel to Louisville for Courtland's graduation on Dec. 17. It is an occasion that Courtland, Krystle and Cereniti would not miss.
When asked about his thoughts on the December commencement exercises, Leamon simply said, "Go Cards!"