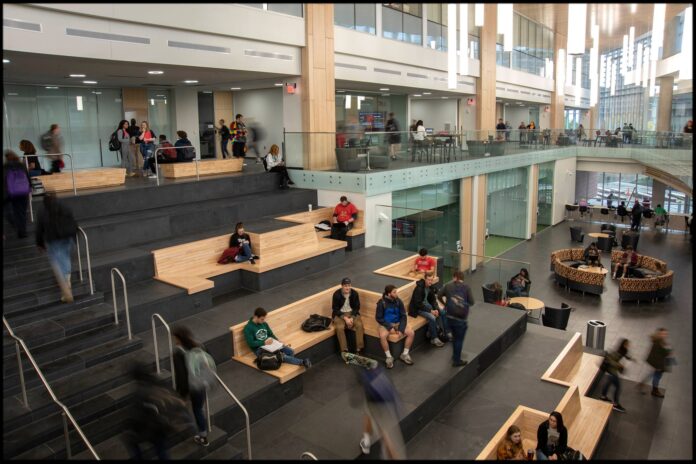 The Federal Pell Grant program was established by Congress in 1972 to create a financial pathway for low-and-middle income students to attend college.
In the 50 years since its creation, the Pell Grant has helped more than 80 million students attend college and pursue their dreams. The Pell Grant has increased access to higher education for countless low-income and first-generation students. That access has helped close a massive opportunity gap – a bachelor's degree holder earns a median of $2.8 million throughout their lifetime, which is about 75% more than if they had only a high school diploma.
At the University of Louisville, the opportunity gap has been closing for the past several years thanks to a dedicated focus on supporting underrepresented and at-risk students, including those who receive a Pell Grant. UofL's six-year graduation rate has improved by 8% over the past six years, for instance, marking the highest rate in university history.
Geoff Bailey, executive director of the REACH program, believes UofL is among few that has made such material strides.
Part of this success comes from our vast ecosystem of programs and resources provided for students to help them navigate their educational journey. This includes REACH, which provides peer tutoring, academic coaching, seminars, intervention courses, financial and academic workshops and more. There is also the Student Success Center, which REACH partners with frequently. It consists of student success coordinators, the First Year Experience office, exploratory advising and first-gen programming.
Additionally, last year UofL launched the Cardinal Commitment Grant, a last-dollar scholarship that pays for the remainder of a student's tuition after they have received and applied for federal and state grants and additional institutional aid. Students must be eligible for a Pell Grant to take advantage of this new program. 
Leveraging data to identify students most in need of support 
Another way UofL differentiates itself is by having the resources in place to dive deeply into metrics and understand what programs are working. For instance, REACH has the ability to pull data sets to examine how students from certain cohorts – such as first-generation or Pell Grant-eligible – are faring when they use its services compared to those who do not. 
"This allows us to make sure our students are performing well and retained. It's pretty rare to have this sort of staffing and political support. I can think of maybe four other schools that have this type of support," Bailey said. "We want to make sure our most vulnerable populations are receiving support so they can take advantage of our resources. We know there is a correlation between our deep dives and graduation rates."
Having the resources in place also allows REACH to target students who may need the most help getting through their academic careers.
"For the students who are not using us and who have below a 3.0 grade point average, this allows us to get into the weeds with them, message with their advisers and follow up. We make sure we're bending over backwards with a support message because we are seeing that Pell Grant recipients who use our services are going to thrive and do better than those who don't," Bailey said.
To get to that point, Bailey and his staff have to find out why a student may not be leveraging these resources. There are three primary reasons – they're thriving and don't need the help; they prefer to figure things out on their own and don't want to come in; or they have jobs and are simply too busy.
"The third one is the one that scares me because they can't carve out more time to get more help and we can't move the needle so easily on those students," Bailey said.
At a high level, tutoring services are what make the most difference for students who are most at risk of dropping out, but there are additional services they can receive during their time here. UofL's student-facing teams also work to make sure these services run tandem with students' courses, so they can get support outside of class, apply knowledge beyond class and develop better habits overall. Bailey said it's critical that all of these services and resources are top-of-mind for students and their parents.
"When students take tours, even if they've not yet applied, they're hearing about our services and support. They end their campus tours at the Belknap Academic Building, where they learn about critical support services offered by the Student Success Center and REACH. Advisers are reminding them constantly of the services we have," he said. "We wrap around and reinforce the key areas that students need to pay attention to as they transition to college. Without that, we'd be like any other school.
"Our ability to forge campus partnerships is what makes an impact and where we distinguish ourselves. It's woven into our institution that everyone has a role in student success."
Why it's important to prioritize Pell Grant students
Zooming out a bit, it's important to understand the impact the Pell Grant has, and has had for the past 50 years. The biggest barrier to obtaining a college degree is funding.
Kentucky has one of the highest poverty rates in the country, at 16.3%. According to federal data, only about one-fourth of Kentuckians have a bachelor's degree or higher.
Thirty-four percent of undergraduate students receive a Pell Grant, and 51% of funds go to students whose families earn less than $20,000 a year. In Kentucky, nearly 94,000 students are Pell Grant recipients, averaging about $4,000 a year.
"Economically, a good portion of our state is depressed. If we're going to move the needle, a college education is the great equalizer. We play a critical role in helping to break the cycle of poverty," Bailey said. "The Pell Grant fosters opportunities those students wouldn't otherwise have and we're not just issuing money and saying, 'good luck.' We're focused on being stewards and helping to change lives."
UofL's work is hardly done. The institution will continue to target Pell Grant-eligible students as part of its overall priority to increase access to higher education. For example, the 2022-23 budget allows for a 0.0% tuition increase for undergraduate students, as well as the continued development of the Cardinal Commitment financial aid program.
NCLCA Award
For its work, REACH was recently awarded the National College Learning Center Association President's Outstanding Learning Award for Specialized Populations. UofL was the only four-year institution to be recognized this year.