Students and staff gathered at the final Garden Commons workshop of the semester recently to learn about creating sustainable holiday wreaths from UofL Grounds foreman Mickey Paul.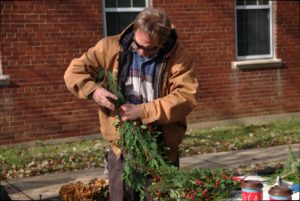 Paul used clipping from campus plants to demonstrate some of the techniques for making wreaths along with educating participants on the types of clippings that were being used. Materials consisted of juniper berries, garlic, blue spruce, asparagus leaves and a variety of other plants readily available across campus.
"All of the stuff we used for the wreaths is foraged from campus," said Garden Commons senior intern Ellie Miller. "It's really just a fun holiday tradition."
This workshop was the final event of the Sustainability Council's sponsored Garden Workshops. Other workshops this semester included making herbal teas and sauerkraut. The purpose of the workshops is to spread awareness about sustainable practices happening on campus and encourage the community to take part in the Garden Commons.
"The Garden Commons is really supposed to be open to the community, a gathering space where people can come and learn. They take whatever they want from the garden," said junior Avalon Gupta Verweibe, intern at the Garden Commons.
"We have a small space, but we do so much here. It's really supposed to be a learning space about growing our own food sustainably," added Miller.
For the wreath workshop, participants huddled around large piles of foraged materials, picking and choosing between them. The Garden Commons supplied wreath rings, chicken wire, and clothes hangers to shape into festive holiday decorations.
"I think it's fun. I think it's a festive way to get people involved, especially this time of year," said participant Nick Bremer. 
The event was completely free and accessible for all students, faculty, staff, and other members of the community.
The Garden Commons workshops will be held again on Fridays throughout the spring semester.