Gheens Science Hall and Rauch Planetarium will open two new exhibits Feb. 23 at 3:30 p.m.
One exhibit, ISS Above, will give visitors a real-time look at the International Space Station (ISS). The exhibit will show a real-time livestream from externally mounted cameras on ISS that allow the viewer to see what the astronauts are seeing.
The exhibit also shows where ISS is in space and when it will be visible in the skies above Louisville.
Another new display will teach visitors about the Sloan Digital Sky Survey, a 20-year project to map more than 300 million stars and galaxies. The survey used thousands of large aluminum plates with tiny, custom-drilled holes to create the most detailed three-dimensional maps of the universe in history. This exhibit displays one of those plates.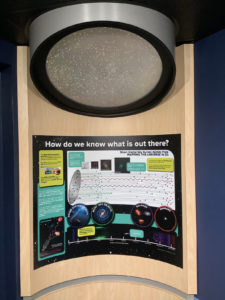 The debut of the new exhibits is free and open to the public. The event will include a talk by Tom Tretter, planetarium director, in the planetarium theater.
"The SDSS Plate and ISS-Above exhibits gives visitors a fascinating behind-the-scenes glimpse of space science and exploration that inspires excitement and curiosity," Tretter said. "These two exhibits pair how and what we learn by looking out to the farthest reaches of the universe with what we can learn about ourselves and our special home in the cosmos by looking back from low-Earth orbit aboard the space station."
The exhibits were made possible by donations from Mary Ann Russell and Reed and Susan Gernert.