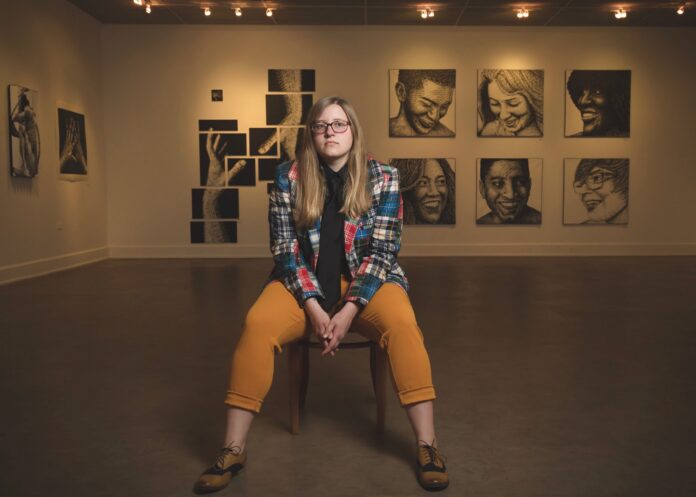 One of the scholarships available in the Hite Art Institute in the College of Arts & Sciences is the Dario Covi Award, named for the beloved professor emeritus and art historian who was an important part of Hite for 50 years.
Covi, who died July 6 at 100, was twice the art department chair and was also curator of the University of Louisville Art Collection for more than two decades after he retired. A sought-after mentor, he was an expert on the Italian Renaissance, especially the sculptor Andrea del Verrocchio of Florence.
The scholarship in his name was established for Hite Art Institute students in their last year of study who have achieved academic excellence and demonstrated engagement in all aspects of the institute.
The 2021 Dario Covi Award winner is graduate student Erica Lewis, a multidisciplinary artist and master of fine arts candidate from Huntsville, Alabama. As a graduate research assistant, Lewis had researched the history of the institute, finding that much of her information "came from Dr. Dario Covi's written first-hand account."
Lewis praised Covi for the "time and care that he poured into the program for decades," as evidenced by his various roles through the years as curator, department chair and director of the Hite Art Institute. 
Covi first joined the A&S faculty in 1956 after earning his doctorate in art history from New York University. He left UofL in 1970 and became chair of the Duke University art department, then returned in 1974. He retired in 1991 but remained the UofL art curator, and could be found in his office five days a week well into his 90s.
"Though I did not have the pleasure of meeting him myself … over the past two years, I have heard many, many people talk about his devotion to academia, such that he would still come to the library and research at the age of 100," Lewis said. "I have never heard someone say his name without a wide smile and a tangible respect in the air. Everything that I have heard about Dr. Covi or seen in the eyes of those who mention him, be it students, professors or alumni (even out-of-state alumni teaching at my undergraduate university) exemplifies what it means to be a scholar, pursuing knowledge while facilitating a supportive academic network. Receiving an award in his name is an honor as well as an inspiration to strive toward my own academic goals, building a community of kindness along the way."
Lewis, who earned bachelor's degrees in fine arts and English at the University of Montevallo in her home state of Alabama, is the 2021-2022 president of the UofL chapter of the Graduate Network of Arts & Sciences. She has presented her work in numerous solo and group exhibitions.