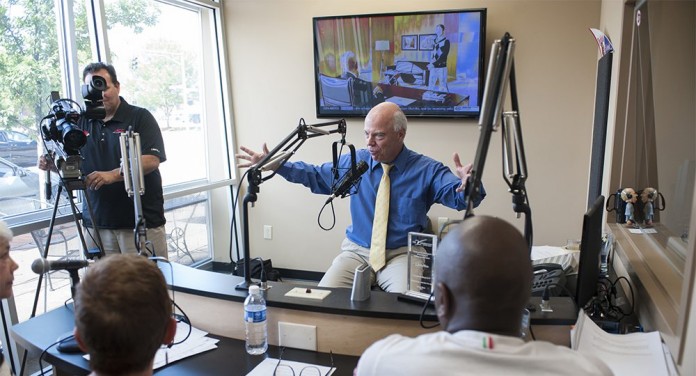 Starting July 27, UofL's Mark Hebert will host two weekly 30-minute programs on the station. The shows will focus on research and insights from expert UofL faculty, as well as stories about our successful students, and staff and campus events.Called "UofL Today with Mark Hebert," the shows will air Mondays and Tuesdays at 6 p.m. with replays Saturday and Sunday mornings."This is a great opportunity for us to showcase our outstanding faculty, staff and students" said UofL President James Ramsey.
Some of the shows will feature UofL experts discussing issues in the news or talking about their current research. Others will include multiple interview segments with students, faculty or staff on a variety of interesting topics.
One of the first shows features faculty members Ricky Jones and Deborah Keeling and Southern Police Institute director Cindy Shain discussing the relationship between local police and the public.  Another program features segments with Autism Center director Dr. Greg Barnes, HPV and cervical cancer researcher Dr. Diane Harper and the entrepreneurship MBA students who won the "World Series" of business investment competitions.
In addition to the half-hour shows, 93.9 FM listeners will hear 90-second segments featuring faculty and students throughout each day, as well as commercials promoting UofL.
93.9 FM The Ville is part of the ESPN family of radio stations in Louisville.