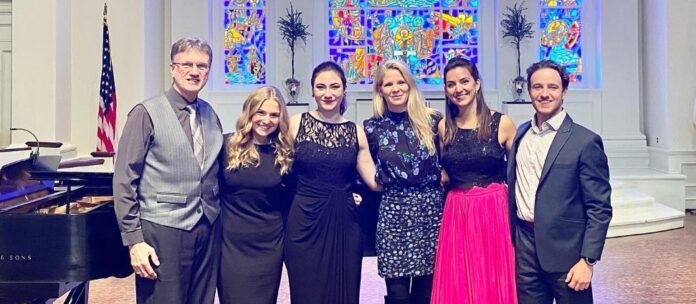 What better way for students to refine their skillsets than learning from individuals within their field of study? That's what UofL voice students recently experienced during a masterclass with Tony winner, Emmy, Grammy and Olivier Drama Desk nominee Kelli O'Hara. UofL News caught up with Assistant Professor of Voice Emily Albrink to find out more about the session and what UofL students gain from masterclasses.
UofL News: How did you secure Kelli O'Hara to teach a masterclass?
Emily Albrink: We learned that Kelli O'Hara was coming to sing with the Louisville Orchestra for the opening of their POPS season on Saturday, September 24. When the season was announced, I knew we had to seize the opportunity to make sure our students had access to this incredible artist. After much persistence through many emails with her agent, we secured her!
UofL News: How unique is it for UofL to work with an artist of this caliber?
Emily Albrink: I cannot remember a time when a star of this magnitude has been in town and worked with our students. Kelli is unique in that, not only is she a star on Broadway, she is also a television star, with a leading role in the HBO series The Gilded Age as well as The Accidental Wolf on Amazon Prime. In addition, she is a classically trained soprano and will be staring at the Metropolitan Opera next month in a new opera based on The Hours. Her success and fame are far reaching and cross genres.
UofL News: Have you brought in other big names in the past?

Emily Albrink: The School of Music has a rich history of bringing in exceptional artists from across the world to work with our students. Specifically, the voice area has hosted famous opera singers: Frederica von Stade, Jamie Barton, Michelle DeYoung, Stephanie Blythe, Wolfgang Holzmair and the incredible opera composer, Jake Heggie.  
UofL News: Describe what happens during a masterclass.

Emily Albrink: A masterclass is a class given to students of a particular discipline (in this case, singing) by an expert in the field. A group of students or audience listens as the teacher takes one student at a time. Usually a single piece is performed by each student and then the master technician will work with them in front of the audience. It can be an eye-opening experience for the listener as much as it is for the participant.
UofL News: What do students gain from these classes and how does it help them grow professionally?
Emily Albrink: The chance to work with an artist such as Kelli O'Hara is a once in a lifetime opportunity for our students. The breadth of experience and knowledge Kelli brings to the table is unparalleled and the personal interaction inspires our students and motivates them in a special way. This also provides an opportunity for students to make a connection with someone deeply rooted in the profession which could lead to any number of prospects for them in the future.