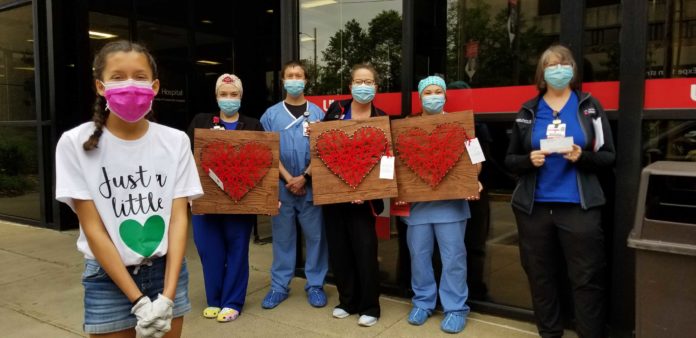 Megan Chelliah will be a sixth grader at Stopher Elementary School in the fall. Among her interests — string art. 
During the nationwide stay-at-home orders in response to the COVID-19 pandemic, Chelliah has spent much of her time making such art, filling hearts made out of wood scraps with red string. When her mom posted her pieces on Facebook, requests "started rolling in," according to WLWT.com. 
Chelliah decided to take advantage of this demand, raising money for a project she called "Just a Little Love." She donated all of the money she raised — about $1,000 — to nurses at UofL Hospital, a way to thank them for their work during the pandemic. Her hope is that the nurses use the money toward some type of self-care.
Chelliah also gave the nurses three of her creations, telling WLWT, "I hope when they look at it they know everyone is with them … Everyone is thinking about them. Everyone cares about them." 
The pieces are hanging in UofL Hospital's COVID units so the nurses can see them every day. She continues to collect money and plans to donate all of it to UofL Hospital. 
More information about Chelliah's art is available online here.