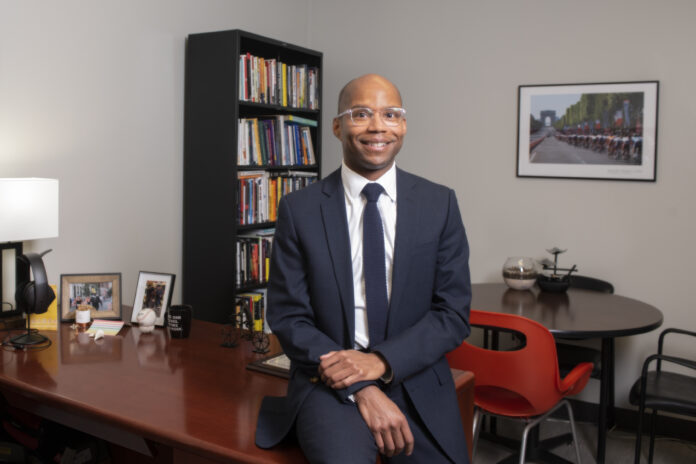 Marion Hambrick, the University of Louisville College of Education and Human Development's Associate Dean for Investment and Strategy, has been appointed executive director of the Grawemeyer Awards and Scholars program. 
"It gives me great pleasure to announce Marion Hambrick as the new executive director of the Grawemeyer Awards. Dr. Hambrick comes highly recommended by his colleagues and peers, and we are grateful for his willingness to accept the role," said UofL Provost Lori Stewart Gonzalez. "The Grawemeyer Awards pay intentional and profound tribute to the power of creative ideas and the impact a single idea can have on the world. I am confident Dr. Hambrick has the intellectual acumen and motivation to continue advancing Charles Grawemeyer's vision of inspiring, honoring and nurturing achievements in education, religion, psychology, music composition and ideas improving world order."
Hambrick served as the director of the Grawemeyer Award in Education from 2017 to 2020. The Grawemeyer Awards are presented annually by UofL and the Louisville Presbyterian Theological Seminary. By creating these awards, UofL alumnus Charles Grawemeyer found a way to inspire, honor and nurture scholarly achievement.
Hambrick earned his BA in finance from Transylvania University in 1995, his MBA in finance from the University of Kentucky in 1996 and his PhD in educational leadership and organizational development with an emphasis in sport administration from UofL in 2010.
His teaching areas focus on financial principles in sports and conducting doctoral seminars in sport administration research. His research interests are centered on social network analysis in sports and recreational sport participation.
He was presented with the Red and Black Award for outstanding advising and instruction in 2010 and 2012 and was a UofL Faculty Favorite nominee in 2013 and 2015. Hambrick is a member of the North American Society for Sport Management and is lead or co-author of articles published in journals such as Managing Sport and Leisure, Sport Management Review, Journal of Sport Behavior and others.
Hambrick succeeds Charles Leonard, who retired from UofL in November.