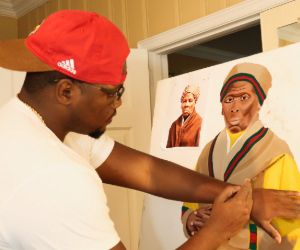 Creative. Inspiring. Imaginative.
Those are the three words UofL alum Javion Duncan ('20) would use to describe his artwork. The young entrepreneur has taken those same characteristics and applied them to his new business, Starving Artist Visuals. 

Duncan became interested in art during his middle school years but quickly realized the artists he was learning about in class did not look like him. Motivated to do his own research into Black painters, Duncan came across the work of Jean-Michel Basquiat, one of the first Black artists to go mainstream in commercial art. 
Although their styles differ, the late Basquiat inspired Duncan to not only take art more seriously, but to change the narrative of what it means to be successful as a Black man.
"When I think about African Americans in history, you're told that if you want to be successful at something, you better be an athlete, a dancer, an actor," said Duncan. "We have to kill the idea that there's only a certain avenue you can take as a young Black kid to be successful."
Eager to break away from the status quo, Duncan embarked on a journey with the goal to inspire young kids who want new ways to express themselves. 
As a former Division I football player, Duncan did not have as much time to devote to his art as he would have liked. But when the coronavirus pandemic put everything on pause, he took the opportunity to further grow and develop his artistic passion.
"COVID-19 forced me to sink or swim," said Duncan, who earned his master's in sport administration from the College of Education and Human Development. "In this predicament, being fresh out of college with very few people hiring, I wasn't going to feel sorry for myself. So, I started a business."
And that's how Starving Artist Visuals came to be.
Duncan's business allows him to share his original art with the world, and he designs each piece in such a way to inspire, uplift, and bring joy to others. Through his desire for realism, the majority of his art centers around historical figures, musicians and prominent athletes.
"If I find something inspiring through a book I've read or a documentary I've watched, I will be more inclined to want to recreate that person, especially if they passed away," he said. "Painting is recreating them and getting to know them without ever getting to meet them."
Although realism is inherently subject to scrutiny, Duncan knows he is continuing to improve and uses each painting to further enhance his skills. Duncan, who strictly does portrait work, creates art that is representative of his culture and who he is as a person.
"My style is being a modern historian. What I mean by that is adding elements of today and what we consider culturally relevant, but with the history of the past so it's reflective of both a young community as well as an older one," he said.
Duncan's mission as an artist is to ensure each painting is affordable, high-quality, and authentic – but with his own spin. One unique element to his business model is a YouTube channel, which provides him a platform to tell his story in addition to serving as an educational tool to share techniques with other aspiring artists.
"I didn't see too many Black art teachers on YouTube, so I thought I might as well do my twist on it," he said. "At the end of the day, I want to be able to help in any way possible for anyone who wants to be an artist."
While there have been highs and lows for the young business owner, Duncan credits his time at UofL for teaching him how to believe in what he wants to create, noting how the artsy nature of the city of Louisville was inspiring to him.
"UofL taught me so much about myself, including the idea that you can truly make it happen if you put the work in," he said. "My experience at UofL showed me that I can do whatever I want to do, as long as I'm willing to make sacrifices and put in hard work."
Visit Starving Artist Visuals' website, YouTube channel, and Facebook page to learn more and view the gallery, and follow Javion Duncan on Instagram and Twitter to stay up to date on his art.