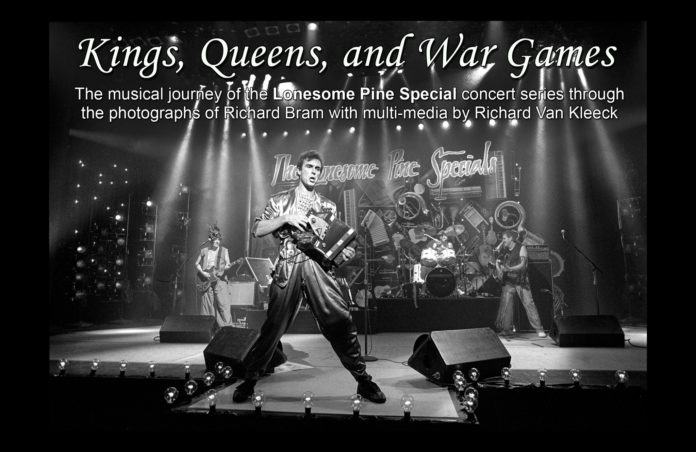 Archives and Special Collections is hosting a new exhibition "Kings, Queens and War Games: The musical journey of the Lonesome Pine Special concert series through the photographs of Richard Bram with multi-media by Richard Van Kleeck." The show runs Jan. 26 to May 22 in the Photographic Archives gallery in Ekstrom Library.
The Lonesome Pine Special concert series ran in 1984 through 2000 at the Bomhard Theater in the Kentucky Center for the Arts. With a mission to be a musical "all things considered" platform for rising stars, underappreciated veterans and unique voices, it attracted numerous national acts such as Lyle Lovett, k.d. lang and They Might Be Giants.
The success of the concert series led to broadcasts on National Public Radio and PBS, airing in over 180 markets and five countries.
The series was created and programmed by Van Kleeck, who then served as the programming director for the Kentucky Center. The exhibition will feature more than 70 images by Bram, mostly in black and white.
"Archives and Special Collections is honored to preserve the legacy of this significant cultural chapter of local history. Bram and Van Kleeck's work is right at home in the Photographic Archives and we encourage everyone to view the rich tapestry of performers that made up the Lonesome Pine Special series," said Elizabeth Reilly, Photographic Archives curator.
Van Kleek returned to Louisville in 2014 after 13 years as director of concerts at the Bienen School of Music and the Davee Distance Learning Initiative, Northwestern University.
"I discovered that there was still a lot of interest and fond memories related to the Lonesome Pine Specials concert series. I knew Richard Bram had many wonderful photographs from the series that had not been shown. I also had many hours of video from the Lonsome Pine Specials PBS series. This seemed like a perfect match, to combine the Bram photos and a new retrospective live action video I have editd into one exhibit that would celebrate an important part of Louisville's rich cultural history circa 1984-2000," he said.
There will be an opening reception 3-6 p.m. Jan. 26 in Ekstrom Library's Chao Auditorium. Bram will speak, as well as Van Kleeck, who will also air the film he edited. Other speakers include Bob Hill, former columnist for The Courier-Journal; Leslie Stewart, former WFPL host; and John Timmons, WFPK host and founder of ear X-tacy Records. Composer and violinist Scott Moore will perform a new work inspired by the diversity of musical styles presented on the concert series.
"I am very pleased that the UofL Photo Archives and Special Collections will include this cultural story, these photographs and the video in their nationally celebrated collections. It is indeed an honor. In fact, this exhibit is a rounding of a circle. Each season, over sixteen years, the series featured a brilliant photo from the UofL Photo Archives," Van Kleeck said. "I am especially pleased that new generations will be introduced to this series, and also to many outstanding artists that they may not have known about before seeing this exhibit."