"Welcome to Almost, Maine, a place that's so far north, it's almost not in the United States. It's almost in Canada. And it's not quite a town, because its residents never got around to getting organized. So it almost doesn't exist. One cold, clear, winter night, as the northern lights hover in the star-filled sky above, the residents of Almost, Maine, find themselves falling in and out of love in unexpected and hilarious ways. Knees are bruised. Hearts are broken. But the bruises heal, and the hearts mend—almost—in this delightful midwinter night's dream."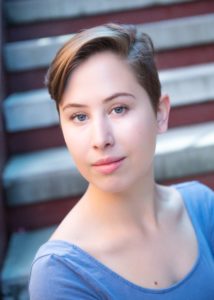 Theatre Arts opens "Almost, Maine" at 7:30 p.m. Thursday in Thrust Theatre, a show Lauren Dobbs promises is "magic, a little bit surprising and a little bit different."
Dobbs is an MFA graduate student, assistant director of the production and has been instrumental in bringing it to life.
All of the actors play at least two roles and she's helped them differentiate their characters by developing defining trademarks such as placement of voice, pitch, speed of speech, posture and how well they convey confidence, she said.
"I've been helping them get the tools and make decisions for their characters," she said.
She's also served as the fight and intimacy captain, helping actors nail down kisses, falls and stage combat, which deliver some of the show's best surprises.
"As far as I know, grad students rarely have the opportunity to take on as much responsibility and to have as much input in the directing of a show as Lauren has," said Geoffrey Nelson, Theatre Arts instructor and director of the play.
Dobbs said her first love is acting, and she's performed in a number of other Theatre Arts shows, including "The Long Christmas Ride Home," "Taming of the Shrew," "Our Country's Good" and "King Lear."
But, her graduate assistantship has instilled a new appreciation for teaching as well and she hopes to incorporate that into her professional life as a teaching artist after she graduates this spring.
Dobbs got her undergraduate degree at a small liberal arts school in Pennsylvania, but decided on UofL's Theatre Arts graduate program because of its emphasis on social justice and inclusion.
"It's been a great experience," she said.
Nelson encouraged everyone to see "Almost, Maine," as it feels highly relatable, and not just because he actually, in real life, hails from the Pine Tree State.  
"What I particularly like about the play is that it has such a quirky sense of humor, yet there are also a few serious moments in the play, which gives it some depth. I also like the use of magical realism; in this play, magical events happen and they all relate to metaphors about love," Nelson said.  
The show, written by John Cariani, runs 7:30-9:30 p.m. Jan. 31-Feb. 2 and Feb. 7-9, with a 3 p.m. matinee Feb. 10. Purchase tickets here.