This year when Nobel laureate Alan Heeger attends the Kentucky Derby, he will share a box with distinguished company – four UofL chemistry graduate students. The Chemistry Graduate Student Association has a long history of inviting such noted scientists, most of them Nobel Prize winners, to campus to give two free, public talks around Derbytime.
"To get these guys to come to Louisville and to a program run by students is a remarkable accomplishment," said Richard Baldwin, chemistry professor in the College of Arts and Sciences and longtime faculty liaison to the student association. "When you look at the list of living Nobel winners, a good number of them have been here."
Students start the previous year, sending a letter to the scientist they've chosen. Once there's acceptance, then the students book the speaker's air and hotel reservations, schedule the talks and other campus activities, arrange for transportation and evening meals with department faculty and students, and order the Derby tickets if the speaker's schedule permits. For this effort, the CGSA raises money by selling safety goggles to freshmen lab students, and Clariant Inc., a Switzerland-based chemical company with operations in Louisville, matches the funds raised to co-sponsor the talks.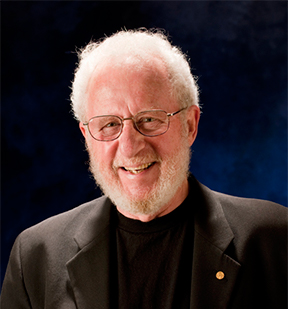 Heeger, who shared the 2000 Nobel in chemistry for the discovery and development of conductive polymers, is a University of California-Santa Barbara professor of physics and materials. He will discuss "Creativity, Discovery and Risk: Nobel Prizes Past and Future" at 12:30 p.m. May 10 in Gheens Science Hall and Rauch Planetarium. Heeger's more scientifically-oriented lecture, "Electronic Structure of Semiconducting Polymer Field Effect Transistors," will begin at 1:30 p.m. May 9, also in the planetarium.
"We try to make it unique and different for them – something memorable," said Kelsey Sparks, a Florence chemistry graduate student who is the association's co-president. The speakers often return home with a Kentucky Colonel certificate, Louisville Slugger bat and other souvenirs from the Bluegrass State.
Last year Sparks drove speaker Graham Cooks, a Purdue University chemist, to some engagements, gave him a campus tour and introduced one of his lectures – the only part she considered "a little frightening." However, despite their scientific stature, the visitors tend to be quite approachable and interested in discussing the students' work and aspirations. "They've achieved a lot in their life but they talk about normal things," Sparks said.
The program has evolved over the years since the first lecture in 1978, and the move to the Derby season occurred in the mid-1990s, Baldwin said. Ideally, the speakers are people who are still scientifically active; the group makes an effort to choose from a "good broad spectrum," according to Sparks, mixing in some pure chemists, some biomedical chemists and some with more of an engineering emphasis.
This year's schedule for Heeger will include some downtime during race weekend with gatherings at Baldwin's house and another professor's home. That setup allows for more conversation with UofL faculty and students and affords the visitors a more personalized experience than they might otherwise have on their traditional lecture circuit. That is part of why Sparks and her fellow officers are looking forward to their Derby experience together with Heeger and his wife."It's cool to be able to say you hung out with a Nobel Prize winner," Sparks said.