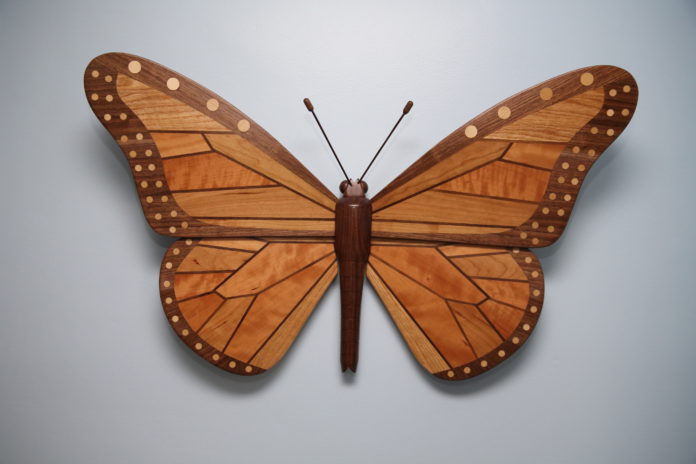 The Photographic Archives Gallery in Ekstrom Library will soon be full of an eclectic mix of art ranging from oil paintings to basketry, and wood sculptures to quilts. These pieces were created by UofL faculty and staff members who otherwise have day jobs in IT, Physical Plant, teaching, researching and more.
Thirty-one UofL employees are participating in this year's Open Walls Faculty/Staff Art Exhibit, the seventh year for the event.
One of those artists, Kate Snyder, is participating for the first time with her tiny "Chat Noir." The acrylic painting is displayed on a 2-inch-by-4-inch canvas complete with a tiny stand.
"I started doing tiny paintings during my dissertation as a way to deal with the stress," said Snyder, an assistant professor of educational psychology, measurement and evaluation. "I have always been enchanted by tiny things and enjoy the sense of accomplishment that comes with finishing a tiny masterpiece."
Tiny art, as she calls it, captures "majesty with whimsy" and provides a challenge in presenting the details. Snyder, for example, uses a tiny paintbrush for features such as whiskers and lettering.
Mark Strickland is not a newcomer to Open Walls, but the Medical School programmer has new photos this year, including one titled "Eagle at the Lake."
"Eagles are making a return to Kentucky. This photo was captured from a yacht as part of the lake tour for sighting eagles in January. The day of the tour the weather was cool but sunny which created lots of thermal updrafts but not much wind. As this fully mature bald eagle glided over the boat, about 200 feet in the air, I was able to capture this image with the bright morning sun shining from above," he explained.
Victoria Natal Harpe, acting assistant director of support services, is also an Open Walls veteran. She showcases her crochet talents this year on an 11.5-inch doll titled "Princess Diana at the White House – 1985." She was inspired by Princess Diana's dance with John Travolta to the "Saturday Night Fever" soundtrack that night in 1985.
Woody Petry, a professor in Psychological and Brain Sciences, submitted a photo of a bench that sits on a steep grade on a street in Riomaggiore, the southernmost of the five fishing villages that comprise Italy's Cinque Terre.
"At the base of cliffs, Riomaggiore sits on a steep grade, which contributes to both the beauty, and the challenges, of its architecture. This photograph displays nature's preset conditions (the steep grade of the street) and the modern expectations of human living (the perfectly horizontal door). But the bench is not a horizontal surface, but neither does it mirror the grade of the street. Rather, to be functional, it must slant at a level somewhere between those extremes. To me the photograph depicts, in a simple way, the accommodations that must be made to coexist with nature," Petry said.
Mary Boyd, a program coordinator in Advancement Services, works with a type of yarn made of wool and silk. She has two wraps made of the same yard yielding two very different looks. The first pattern is based on a nålbinding fragment from Dura-Europos, Syria, circa 200-256 A.D.  Twisted stitches give a raised effect and set the pattern off from the background. The other wrap is a "Entrelac technique," which shows off color variations in alternating stockinette stitch and reverse stockinette stitch and allows the project to lie flat without curling.
Boyd's mother taught her and her sibling how to stitch when they were young, and she continues.
"She sat us on the couch and we knitted for hours while she disappeared to do whatever mothers of young children do when they need a break. Today, I have knitting projects stashed for all kinds of circumstances – easy projects for 5-minute waits; small projects for riding in cars or airplanes; large, complicated projects for hours of watching tennis matches or cycling races," Boyd said.
Associate biology professor Steve Yanoviak's wood sculpture, titled "Claire's Monarch," spans 34-by-25 inches and is handcrafted using Kentucky hardwoods – cherry, walnut, oak and maple – with a polyurethane finish. He created the piece for his daughter, noting that the monarch butterfly will likely be extinct within her lifetime.
"I constructed this piece for her as a memento of, and tribute to, this amazing insect," he said.
The piece is also a scale model based on a locally collected Monarch specimen obtained from the UofL Entomology teaching collection.
Check out these pieces on display June 12 through June 29, from 10 a.m. to 5 p.m. in the gallery, which is located in the lower level of Ekstrom Library.
An opening reception will be held June 14 from noon to 2 p.m. just outside of the gallery.