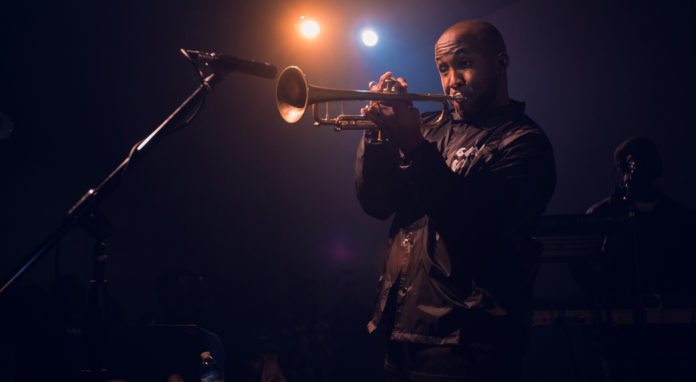 You could say Elester Bostick-Latham spends his spare time pursuing a graduate degree at the Kent School of Social Work. The second year student is specializing in Psychosocial Oncology and serves as treasurer of the Kent School Student Association.
However, Bostick-Latham is also a trumpet player, composer and producer. He is lead soloist for rapper James Lindsey and spends much of his time touring with his band. Just this year, the band has played WFPK Live Lunch, WFPK City Song, WFPK Waterfront Wednesdays, Twilight Thursday at Churchill Downs, and the South By Southwest Festival.
Atlanta native Bostick-Latham earned his bachelor's degree in Healthcare Management from Clayton State University. He chose to pursue a graduate degree in Psychosocial Oncology because he is interested in assisting communities that battle with healthcare disparities and access to appropriate resources.
"All communities deserve quality healthcare and supportive systems of care," he said.
He chose the Kent School because of its reputation, curriculum, the caliber of its graduates and the numerous resources available to students.
"It's empowering to be a student among professors who actively care about social justice and are active within the community," Bostick-Latham said.
Finding a balance
Bostick-Latham started playing the trumpet in high school. He attended a performing arts school, which included curriculum on composition and arrangement. His musical production skills, however, are self-taught.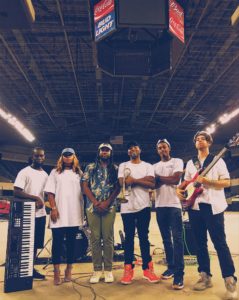 He was introduced to James Lindsey by an acquaintance and, as lead soloist, works on melody arrangements and tying musical themes together for the hip-hop artist. He also plays with other acts, for example with Teddy Abrams and Friends at this year's Forecastle Festival. He describes the past year as "awe-inspiring to say the least."
"I have performed at the Speed Art Museum, SXSW, Forecastle, WFPK Waterfront Wednesday and WFPK City Song. Most of our shows draw a big crowd, but Forecastle and Waterfront Wednesday typically bring a massive crowd," Bostick-Latham said.
When asked how he juggles such a grueling performance schedule with intensive graduate studies, he says, simply, "I keep a strict study schedule and coordinate with my band often."
Bostick-Latham is on track to graduate in the spring. His plans include securing employment as a social worker while volunteering and mentoring in the community.
He will also continue to pursue his creative ambitions, noting that the band has new music on the way. Follow andcompanyband and jameslindseyco on Instagram for updates.