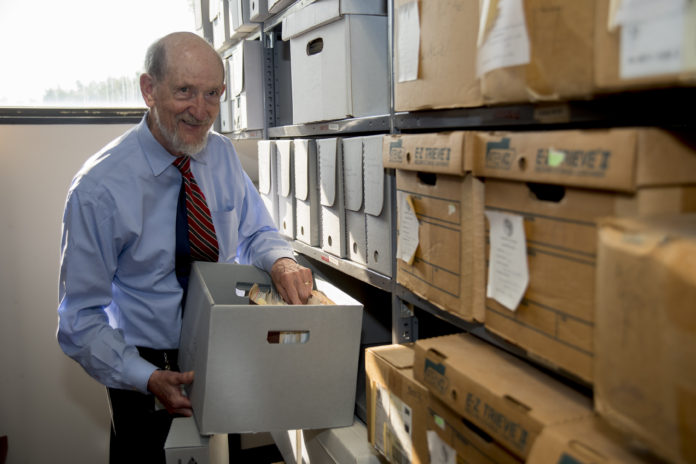 Insights from UofL Libraries Archivist Tom Owen – a man Louisville Mayor Greg Fischer calls the "unofficial mayor of Louisville" – are preserved in a series of interviews donated recently to the University Libraries.
The interviews focus primarily on Owen's career in politics, beginning with his first run for elective office – a seat on Louisville's now defunct Board of Aldermen in 1990 – and concluding with his retirement from the Metro Council at the end of 2016. Louisville filmmaker Morgan C. Atkinson donated the interviews to Archives and Special Collections.
"We would get together probably four times a year to discuss Tom's views on current affairs, his political life, his legislative agenda as well as quirky odds and ends that seem a special province of Tom's," Atkinson said. "I began the work because I've always believed Tom plays a unique role in our community – historian, visionary and gadfly."
The collection totals some 50 hours of conversation and is available to the public at Archives and Special Collections' research room in the lower level of Ekstrom Library at UofL's Belknap campus.
"Talking with Tom was always a pleasure," said Atkinson, who also collaborated with Owen on the six-part video series, "Tom Owen's Louisville."
"With every interview I gained insight into Louisville history, a clearer sense of how politics works (and sometimes doesn't) and a deeper appreciation for what motivates a committed public servant," he said.
Memorable discussions include "Tom's role in the Fairness initiatives [anti-discrimination legislation to protect LGBT rights] and his near-miss race for mayor" in 1998, said Atkinson. "I came away from the experience with the same view I had in 1990: the community of Louisville is fortunate to have a citizen activist like Dr. Tom Owen."
Heather Fox, Co-Director Oral History Center, says Owen is "rightfully considered a local treasure. He makes an invaluable contribution daily to the many patrons of Archives and Special Collections and to his fellow archivists. We are extremely grateful and pleased to accept the gift from Atkinson."
In May, Owen celebrated 42 years as an Associate Archivist for Regional History with University Libraries.