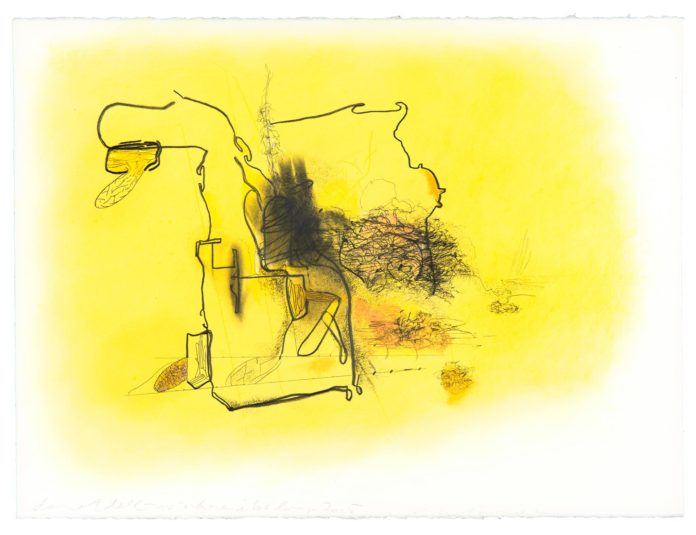 Hite Art Institute presents "donottellmewhereibelong," an exhibition of mixed media drawings and assemblage sculptures by California artist Joan Tanner, on view Sept. 14 through Oct. 27 in the Cressman Center for Visual Arts.
The traveling exhibition is organized by Julien Robson, independent curator and director of Great Meadows Foundation in Kentucky, and a friend of Tanner's.
"Joan is compelled by a curiosity to engage contradiction and an impulse to disrupt assumptions about spatial relations," said Robson, who served as curator of contemporary art at the Speed Art Museum from 2000 to 2008.
Over a career spanning six decades, Tanner's art has developed across disciplines to encompass many media, including painting, photography, video, sculpture and assemblage. With an instinctive resistance to conventional ideas of order, she has created provocative works that defy simple categorization and sometimes logic.
She has exhibited across the U.S. since 1968, beginning shortly after she moved to Southern California from the Midwest. Her work is held in a number of collections, including The Getty Research Institute, Los Angeles; Harvard University, Houghton Library, Department of Printing and Graphics, Cambridge, Massachusetts; New York Public Library, Spencer Collection; Speed Art Museum and the Santa Barbara Museum of Art, California. 
Tanner has also served as a visiting lecturer at the University of California Santa Barbara; Ohio University in Athens; Illinois State University at Normal and, most recently, as an artist-in-residence at the University of North Carolina at Greensboro.
Tanner's current exhibition has traveled to numerous other galleries this year, including the Taubman Museum of Art in Roanoke, Virginia. 
"In recent years, there has been a growth of interest in older woman artists who have been overlooked," he said.
There will be a lecture associated with the show 7-8 p.m., Sept. 13 in room 100 of Bingham Humanities building. 
The opening reception is 6-8 p.m.,Sept. 14 at the Cressman Center, 100 E. Main St.