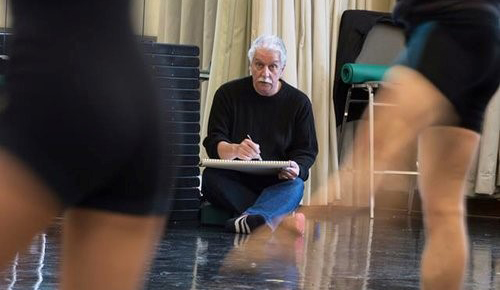 This winter, Hite Art Institute presents a two-part exhibition celebrating the work of its longtime, distinguished drawing professor James Grubola.
From Jan. 19-Feb. 24, the Cressman Center for Visual Arts will display drawings by Grubola that emerged from his return to a 43-year practice of drawing weekly. The opening reception is 6 p.m. Jan. 19.
"When my 17-year tenure as chair ended in 2010, along with its administrative burdens, I was able to return to my first two loves: drawing human figures and teaching full time," he said.
He began hiring a model for drawing in the Hite studios on Fridays, hence the exhibition title, "The Friday Sessions."  
Grubola also spent decades drawing moving bodies and recently returned to drawing dancers at the Louisville Ballet's Thursday rehearsals. These sessions formed his second new body of work, "The Thursday Sessions," also on display at the Cressman.
In celebration of Grubola's significant impact as a teacher, Hite Art Institute is also hosting an exhibition of work by Grubola's many former students. "Selections from the teachings of James Grubola" is on display through Feb. 9 in Schneider Hall Galleries.
Grubola's show was recently featured in Artebella, a blog by Louisville Visual Art, which noted his distinguished teaching career. 
"For James Grubola, the most important metric is established by his students, so the crucial measure is in the achievements from thousands of people who earned their Bachelor's degrees through UofL since 1975, when he joined the faculty. But the credentials and formal recognitions are certainly there:
2001 – "Red Apple Award" for excellence in teaching from UofL's Alumni Association.
2008 –  the "Trustee's Award," one of the university's highest awards which annually recognizes one faculty member who has had the greatest positive impact on students.
2015 – College of Arts and Sciences "Distinguished Faculty Award in Teaching."
Under Grubola's leadership as chair, Hite saw the introduction of the Mary Spencer Nay Scholarship Endowment, the addition of a program in glass housed in the Cressman Center, the university's first, permanent, non-medical facility downtown, and the adoption of a selective admissions policy for the department. 
"Early in their careers, Grubola and his wife, artist and curator Kay Grubola, were artists-in-residence at the Christopher Ballet in Michigan, and when he was a graduate student at Indiana University he drew during ballet classes, so the interest in dance figures is nothing new, yet it is interesting that an artist who favors silverpoint and goldpoint as mediums should be focused so intently on the kineticism of choreographed movement," wrote Artebella … "The kineticism is there, formed in vigorous line around the barely detectable dancers in motion – think of the Tasmanian Devil cartoon character in full whirling dervish mode. The suggestion of animation seems entirely appropriate to the forceful way Grubola captures the grace and athleticism of dance with such immediacy. The artist has a deep and profound relationship to the world of ballet that is communicated with great clarity."