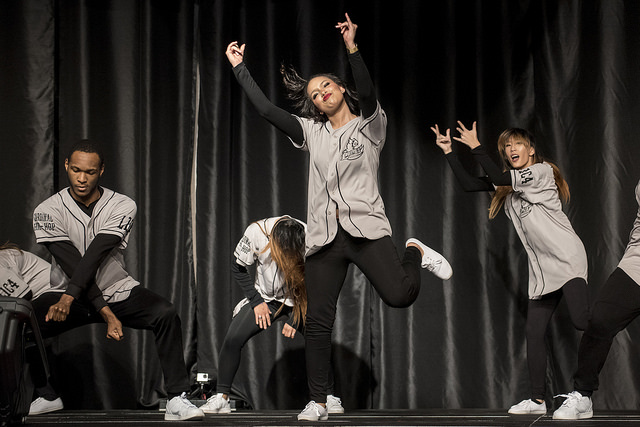 Fashion and dance will bloom on the runway at this year's International Fashion Show Friday, Jan. 26.
The 16th annual International Fashion Show, sponsored by the Student Activities Board, will be held in the Student Activities Center east courts. The theme for this year's event is "Bloom: The Awakening of Cultures." The show will feature more than 100 models wearing attire that represents cultures from around the world. Attire is loaned from local designers and boutiques including: Francesca's, Peach Soul, Blush Boutique and more.
For the chair of the Student Activities Board Diversity Committee and planner of this year's show, Joseph Holland, the event is about much more than just fashion and dance.
"This event promotes the interaction of many cultural organizations and it impacts the inclusivity on campus long after the fashion show," Holland said. "Organizations are more likely to collaborate with each other, which leads to diverse campus leaders including each other in planning and work. We're all able to share this common space for the night and it has impact way past that night."
A variety of student groups will perform in the show including the Indian, African, Vietnamese and Muslim student associations, the Dazzling Cardettes, Shades of Movement and the BourGeoiSie Modeling & Fashion Troupe.
There are several new and unique features this year. University student soloists will perform original pieces. There will also be a live band and a more interactive theme that holds a special surprise for attendees.
"We wanted to capture the idea behind going through seasonal changes and after every winter there is rebirth and growth and we wanted to compare that to cultural growth and understanding and appreciating the growth of cultures," Holland said. "This is a way to celebrate each other and what it means to be immersed in a culture other than your own."
The event begins at 7 p.m. with food. The performances begin at 8 p.m.
Presale tickets are $5 for UofL students with university ID and $8 for the community. Tickets purchased at the door will be $7 for students and $10 for the community. Tickets are available for purchase in the student involvement office at the Student Activities Center.
Click here for more photos from the 2017 show.