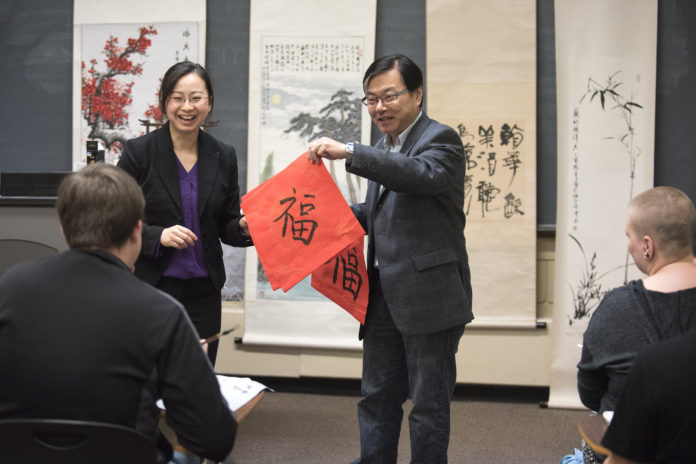 Of the 7.2 billion people on Earth, 14 percent speak Mandarin Chinese and an additional six percent speak another dialect of Chinese. And there are more than three times as many Chinese speakers as those speaking Spanish, the next most widely spoken language.
Compare that to the number of people studying Mandarin – roughly 30 million worldwide – and it is clear there is a gap to fill. Fortunately for UofL students, there is now that opportunity through the College of Arts & Sciences Classical & Modern Language Department's Chinese Language minor program.
The program began accepting students for the first time in the fall. 
"One of the main reasons I came to UofL is that I am able to continue to learn Chinese," said senior Kendall Malone, a Psychological & Brian Sciences major who is also enrolled in the minor program. "I plan on moving to China and bridging my psychology knowledge with my knowledge of Chinese language and culture to work addressing mental health issues there."
The new language minor took the place of the department's Chinese Studies minor, focused more on culture and history than language, which was transferred to the Asian Studies program. Now students can immerse themselves in a language-focused curriculum with two full-time faculty members devoted to developing and sustaining the program.
"Our undergraduates are well aware of the importance of the Chinese language — in addition to Chinese history and culture — in today's globalized economy and diverse environment, and they welcome more opportunities to study it," said Chinese language professor Li Zeng, director of the new minor program. "We are answering this increased demand by offering a recognized minor rather than just the occasional individualized offerings themselves."
The Chinese Language minor provides learners of Mandarin Chinese with a standards-based, topically organized curriculum. The program promotes effective communication in Chinese, understanding of the Chinese civilization, and appreciation of global cultural diversity. Through full-fledged coursework from elementary to advanced levels, co-curricular activities, and a summer study abroad trip to China, this program complements majors as diverse as Business, Political Science, Humanities, Engineering, Geography, Medicine and History, among others. The program also opens up an array of scholarship opportunities through partnerships with U.S. government agencies, Chinese institutions, non-profit organizations and businesses.
"Apart from providing educational services for students' language proficiency to make them better suited to today's globalized world, this language-focused Chinese minor program also helps increase students' success in receiving major grants like the Boren and Fulbright Awards, as well as university scholarships," Prof. Zeng said.
For example, Chinese Studies minor and Speed School of Engineering alumnus Ben Arterburn ('08) received the prestigious Boren Award to pursue studies in China while an undergraduate at UofL. He went on to get an MA in Modern and Contemporary China from Columbia University and now works as a Foreign Service Officer for the U.S. State Department. Chinese Studies minor and College of Business alumnus Will Scott ('09) was one of only 15 people worldwide accepted into the MA program in Modern Chinese Studies at the University of Oxford in 2009. And senior Calvin Grant, double majoring in Asian Studies and Geography and minoring in Chinese Language, received the World Scholars Scholarship to study Chinese in Beijing before returning to UofL to finish his undergraduate degree, intern at The Crane House and complete his senior thesis.
Even students like Kevin Zheng, who has speaks Mandarin at home with his parents, find formal instruction in the language important for future success.
"I did not learn Chinese in a school environment, which left me with a shaky foundation and not much room to improve," said Zheng, a Chinese Language minor and Bioengineering major at the Speed School. "Learning it at an academic level helps me use language to understand interactions between people in other cultures, and it can assist me in getting a job in the future as it shows that I am capable and reliable to work with matters that require knowing Chinese."
Since the establishment of the Chinese Language minor last semester, the program has accepted six students, is processing six more applications, and is continually fielding calls and emails from prospective students. Nationwide, the number of university students studying Chinese has tripled in recent years, according to the Modern Language Association.