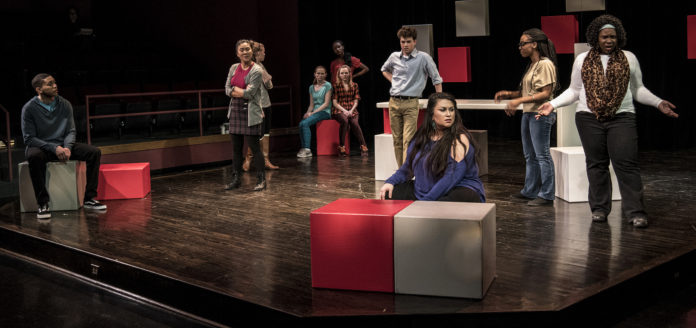 The Department of Theatre Arts African American Theatre Program was selected to perform "Baltimore" during the 2017 National Black Theatre Festival in North Carolina this summer. 
The production was first performed by the AATP in February. 
"The National Black Theatre Festival is the largest, most important venue for black theatre in the United States," said Professor Nefertiti Burton, chair of the Department of Theatre Arts and director of "Baltimore." "Our students will perform before audiences that include professional actors, directors, designers, theatre educators, agents, recruiters and the general public. It's a terrific way to get our students and our program in the spotlight, in addition to great visibility for the African American Theatre Program."
The African American Theatre Program has previously performed the plays, "Mr. Bluesman" (1997), "Monsieur Baptiste, the Con Man" (1999), "Steal Away" (2005), and "The Orphan's Revenge" (2011) at the festival.
"Baltimore," written by Boston playwright Kirsten Greenidge, centers on a racial incident that occurs in a New England college residence hall. The incident – a student draws a racist caricature on the door of an African-American student's room – brings out an array of different beliefs in the students affected and living in the residence hall. The play provides social commentary on issues surrounding race, identity, sexual orientation and gender. The play also documents how difficult discussions of race and identity can be.
"It's a terrific ensemble show with a very racially diverse cast and excellent performances by all," Burton said.