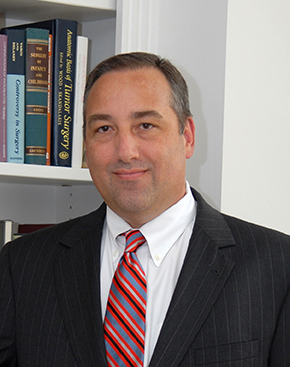 In a moving speech on the difference between palliative "treatment" and palliative "care," the University of Louisville's Kelly McMasters, M.D., Ph.D., gave the keynote lecture today at the American Society of Clinical Oncology's Gastrointestinal Cancers Symposium in San Francisco.
McMasters is the Ben A. Reid Sr., M.D., Professor and Chairman of the Department of Surgery at the University of Louisville School of Medicine. He also serves as director of the Multidisciplinary Melanoma Clinic and is associate director of the James Graham Brown Cancer Center at UofL.
In his keynote address, titled "The Fundamental Difference Between Palliative Treatment and Palliative Care," McMasters noted the audience was filled with those who have devoted their lives to the care of patients with cancer, and will perform research that will relieve suffering, improve quality of life, extend survival and find a cure.
Using one of his patients as an example, he argued that while regular tests and treatments make sense for patients whose cancer can be cured or their lives extended (with good quality), for those with recurring cancer who will eventually die from the disease, there is no evidence early detection of asymptomatic recurrence is any better than waiting until they are symptomatic. For those patients, regular tests and treatments can rob them of their quality of life.
"Our duty to our patients is to care for them, not just for their disease, but for who they are," McMasters said. "Sometimes, it doesn't make sense to put the patient through treatments and tests that in the end, won't affect whether they live or die. They are often better served by living free of pain and suffering, happily in the company of those they love, doing the things that make life worth living."
McMasters has personal experience in losing a loved one to cancer. He lost his son, Owen, to leukemia.
Also speaking on the topic during the keynote address was Shishir Maithel, M.D., chair of the Winship Cancer Institute at Emory University.
McMasters specializes in melanoma, breast cancer, sarcoma, hepatobiliary tumors and pancreatic and gastric cancers.  At the Brown Cancer Center, he works to identify the most effective combination of treatment including surgery, immunotherapy, targeted therapies, and radiation therapy for patients with all stages of melanoma.
He has been principal investigator or co-investigator of over 30 clinical trials, and president of the Society of Surgical Oncology, the Society of Surgical Chairs, the Western Surgical Association and the Southeastern Surgical Association.  In 2018, he was named editor-in-chief of Annals of Surgical Oncology, and he has authored over 400 peer-reviewed publications and a book.
To hear more from McMasters, see this article on the difference between treatment and care in the Annals of Surgical Oncology: https://bit.ly/2DiZKHk.
For more information about society and the symposium, visit gicasym.org.