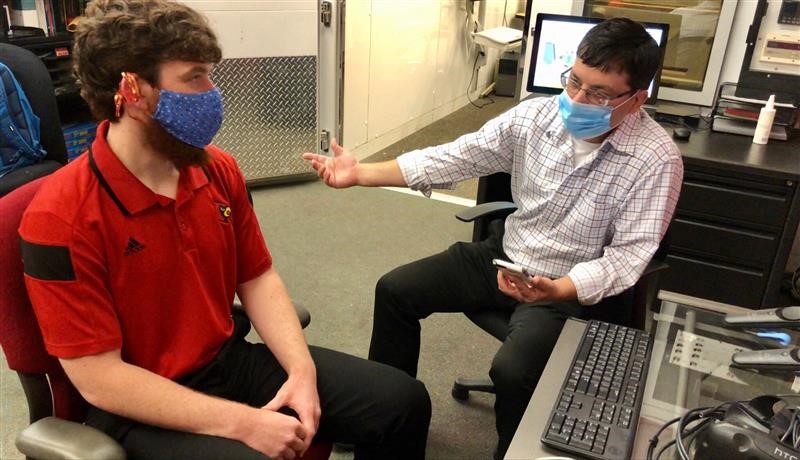 Members of the Media: Video of the researchers is available for download here.
LOUISVILLE, Ky. – Researchers at the University of Louisville are working with the Department of Veterans' Affairs on a tool that texts COVID-19 information and advice straight to veterans' phones.
In a new study published in The Journal of the American Medical Informatics Association, UofL's Jason Saleem, Ph.D., and doctoral student Jacob Read found the tool, called Annie, gave veterans reassurance, advice and connection while helping to reduce the stress on VA health care facilities facing high demand due to the pandemic.
Their study included survey responses from more than 1,100 enrolled veterans from all 50 states, the District of Columbia and Puerto Rico.
"The potential impact of virtual tools on health care is incredible," said Saleem, assistant professor at the J.B. Speed School of Engineering. "Especially with the uncertainty of the coronavirus pandemic, a tool like this can give patients reassurance while preventing unnecessary calls and office visits."
Annie pre-dates coronavirus, and previously has been used for tracking other conditions, education and to send patients motivational messages to help them reach their wellness goals.
In the wake of the pandemic, the VA created a new protocol that sends enrolled veterans regular text messages with tips for avoiding exposure and asking if they're feeling well or experiencing any symptoms, such as fever or shortness of breath. Based on the patient's answers, Annie makes recommendations on whether or not to contact a health care professional.
The text messages follow a decision tree beginning with "Annie here. Are you feeling well today?" If the patient responds with "yes," Annie tells them to have a great day. If the patient responds with "no," Annie asks some follow up questions before recommending a course of action.
When the coronavirus precautions protocol was released and promoted, more than 5,000 veterans self-enrolled in the service.
Jennifer Herout of the VA's Connected Health Implementation Strategies Team said results from the user satisfaction study are promising because they indicate enrolled veterans are following Annie's advice and may turn to Annie first rather than calling or messaging the VA directly. In February, when the pandemic was taking hold, the VA's call center volume surged 21 percent and the number of secure messages nearly doubled.
"The feedback we got from users indicates that we were able to reduce the burden on both VA facilities and also community ones, which should be a focus for all health care systems during this pandemic," Herout said.
Even outside of a global pandemic, Saleem said technology offers plenty of opportunity to make health care more efficient and effective. In the past, he's also worked with the VA to improve the placement of computers and screens in exam rooms to improve the patient centeredness of care.
"With more thoughtful application of technology in health care, the possibilities are really endless," he said.
#WeAreUofL
Members of the Media: Video of the researchers is available for download here.