LOUISVILLE, Ky. – Antibiotic resistance is one of the greatest infectious disease threats in the 21st Century. The United States Centers for Disease Control and Prevention (CDC) has estimated that drug-resistant infections are responsible for 23,000 deaths in the United States each year. Among the three most concerning antibiotic-resistant bacteria and fungi identified by the World Health Organization (WHO) is Psuedomonas aeruginosa.
Researchers at the University of Louisville Center for Predictive Medicine for Biodefense and Emerging Infectious Diseases (CPM) are working at the forefront in combating these pathogens. The CPM has been testing the effectiveness of new drugs against P. aeruginosa under a contract with the National Institutes of Health since 2013, and a new contract from the U.S. Food and Drug Administration (FDA) will expand the center's work in testing new drugs against this pathogen. Under the new two-year, $933,606 contract, CPM will develop a validated model for screening antimicrobial drugs against P. aeruginosa.
"This model likely will play an important role in drug development pipelines leading to identification of new antimicrobial drugs," said Matthew Lawrenz, Ph.D., associate professor of microbiology and immunology who is leading the research. "Researchers at UofL and from around the world will use the model to screen new antimicrobials against multi-drug resistant bacteria prior to clinical trials."
Forest Arnold, D.O., hospital epidemiologist for UofL Hospital and associate professor in the Division of Infectious Diseases in the UofL School of Medicine, said multi-drug resistant (MDR) bacteria and XDR bacteria, those with resistance to all existing antibiotics, are evolving faster than the drugs to kill them.
"The germs get smarter as we make new drugs. If we are going to stay on top of them, we need new antibiotics, especially new classes of antibiotics — those with a new mechanism of action that the germ hasn't seen before," Arnold said.
Infections with MDR bacteria are particularly threatening for patients with weakened immune systems, those who have had multiple rounds of treatment with antibiotics, and in patients using devices such as ventilators and blood catheters. Since these bacteria are now resistant to many of the antibiotic drugs used to treat them, they can lead to severe infections and death.
"If you have an infection with a bacterium we don't have an antibiotic to treat, it could kill you," Arnold said.
P. aeruginosa is common in the environment and in otherwise healthy people, it may cause relatively minor infections of the ear, skin or eye. However, in people with weakened immune systems or in hospital settings, P. aeruginosa can cause serious, life-threatening infections of the blood, lungs, digestive tract or tissue. Infected wounds will have a green pus or discharge and a fruity smell.
The validated animal model, to be developed by UofL researchers with collaborators at the University of Kentucky and the University of Wisconsin, will be used to test new compounds developed by drug companies and research labs around the world against P. aeruginosa. This model will allow testing against multiple strains of pseudomonas and will give more detailed information about the effectiveness of the drugs being tested.
"The previous methods we used for testing the drugs provided basic information about a compound's effectiveness. This new model will allow us to test anything from older classes of antibiotics to brand new classes and will provide information on dosing and scheduling. In addition, we will be able to test different strategies, such as immunomodulation – targeting the host to better respond to the infection as opposed to directly killing the bacteria," Lawrenz said.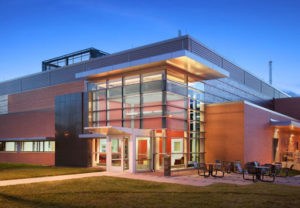 The CPM's new contract with the FDA will take advantage of the sophisticated resources at the Regional Biocontainment Lab, located on the UofL ShelbyHurst Campus, which provide the environment necessary for this work.
"This new contract from the Food and Drug Administration supports the development of a model for understanding how bacteria build resistance to current commercially available antibiotics, which in turn, will lead to the discovery of new drugs or methods to combat a variety of infectious diseases," said Robert Keynton, Ph.D., interim executive vice president for research and innovation at UofL. "The UofL Center for Predictive Medicine and the Regional Biocontainment Laboratory represents a significant investment in infrastructure, faculty and staff by the university in the field of emerging infectious diseases, which is one of our research and training strategic priorities."
#WeAreUofL
About the UofL Center for Predictive Medicine
Research in the Center for Predictive Medicine for Biodefense and Emerging Infectious Diseases (CPM) focuses on translational research for disease-causing pathogens in humans. It includes researchers in the UofL Schools of Medicine, Public Health and the Speed School of Engineering. These investigators work together to understand rare, neglected or emerging pathogens through three areas of investigation:
Molecular and cellular biology of microbial pathogen life cycles and host responses
Development and application of small animal models for study of infectious diseases
Discovery of antimicrobial and antiviral therapeutics and vaccines
About 1 billion people—one-sixth of the world's population—are affected by one or more neglected infectious diseases. In addition, rare (Burkholderia pseudomallei and Yersinia pestis) and emerging (avian influenza, MERS-CoV, and equine encephalitis) pathogens are on the rise and represent health and possible bioterror threats with serious global economic impact. Faculty within the CPM are working to combat this worldwide burden through research focused on the development of novel therapeutics and vaccines.