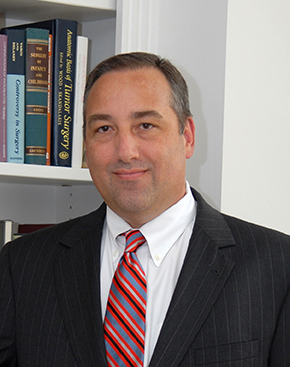 LOUISVILLE, Ky. — All six individuals to be honored at the 21st Annual Doctors' Ball, hosted by the Jewish Hospital & St. Mary's Foundation, part of KentuckyOne Health, have ties to the University of Louisville. Honorees will include four current or former faculty members in the UofL School of Medicine and a former chairman of the UofL Board of Trustees and his wife, both UofL benefactors. The event, scheduled for October 15, 2016, recognizes the service of area physicians and community leaders.
Kelly McMasters, M.D., Ph.D., chair of the Department of Surgery at University of Louisville, will be named the 2016 Ephraim McDowell Physician of the Year. McMasters is also director of the Multidisciplinary Melanoma Clinic and associate director of the James Graham Brown Cancer Center.
George and Mary Lee Fischer are to be honored as Community Leaders of the Year. George Fischer is a member of the UofL Board of Overseers and former chair of the UofL Board of Trustees. He and Mary Lee endowed the George E. and Mary Lee Fischer Chair in Family Entrepreneurship in the UofL College of Business.
Erica Sutton, M.D., assistant professor of surgery with expertise in minimally invasive procedures and surgical endoscopy, will be honored for Excellence in Community Service. Sutton was recently named director of community engagement for the Department of Surgery. She volunteers her services with Surgery on Sunday, an organization that provides in-kind outpatient surgical and endoscopic care to income-eligible members of the Louisville community who are uninsured or underinsured.
Ronald Levine, M.D., a retired professor of obstetrics, gynecology and women's services at UofL, is to be recognized for Excellence in Education. He pioneered gynecologic laparoscopy beginning in 1984 and co-founded the fellowship in minimally invasive gynecologic surgery (MIGS) at UofL in 2001.
Manuel Grimaldi, M.D., a former clinical faculty member at UofL, will receive the Compassionate Physician Award.
The 2016 Doctors' Ball will be held at the Marriott Louisville Downtown at 280 West Jefferson Street in Louisville. Tickets are $300 for the black-tie event, which will include cocktails and a silent auction beginning at 6:30 p.m., followed by dinner and the awards ceremony at 8 p.m. Live entertainment will be provided by MetroGnomes.              
Proceeds from this year's Doctors' Ball will benefit Frazier Rehab Institute's Pulmonary Rehab Center, known for its world-class comprehensive acute care. Plans are underway for the expansion, renovation and purchase of new equipment, an $825,000 project.
To purchase tickets, visit kentuckyonehealth.org/DoctorsBall or call 502-540-3375.