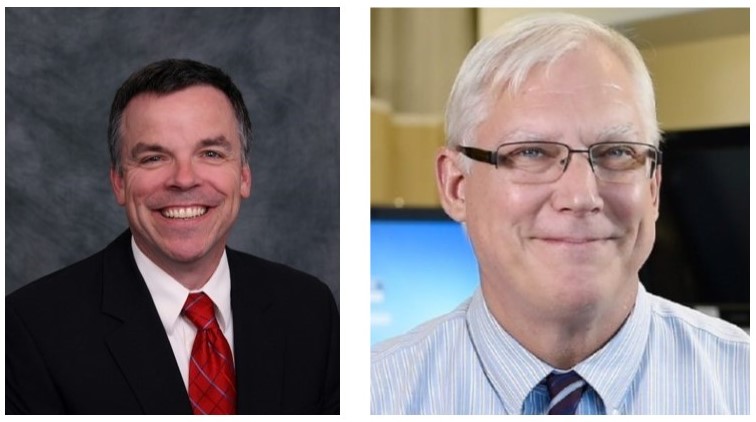 Two nationally known experts in aging will address Alzheimer's disease at the 16th annual Irving B. Perlstein Gerontology Lecture, a featured event of the 2017 Optimal Aging Conference. The two-part lecture will be held Tuesday, June 13 at the Galt House, 140 N. Fourth St.
Christopher Callahan, M.D., will deliver a presentation entitled "Caring for Patients with Alzheimer's Disease" during the Tuesday morning general session at 8 a.m. Gregory Jicha, M.D., Ph.D.,  will present "Update on Alzheimer's Disease" – inspired by his popular presentations at the University of Kentucky's former Summer Series on Aging – at the final general session of the conference at 12:30 p.m.
Callahan is the founding director of the Indiana University Center for Aging Research and a research scientist at the Regenstrief Institute where the center is housed. He has more than two decades of experience in studying clinical interventions and new models of care designed to improve outcomes for older adults.
Jicha is the associate director of the NIA-funded Alzheimer's Disease Center and a professor in the Department of Neurology and the Sanders-Brown Center on Aging at the University of Kentucky. He also serves on the center's Executive Committee and is the director of its Clinical Core.
The three-day Optimal Aging Conference, "Approaching Aging as a Life-Long Journey," brings together academicians, providers, professionals, community members and others with interest in the field of aging. It is organized by UofL's Institute for Sustainable Health and Optimal Aging and the Kentucky Association for Gerontology.
Full conference registration is required for individuals to attend the Perlstein lecture, and early-bird registration for the conference closes April 30. Medical CMEs for the conference will be available to conference attendees. Other disciplines also will be able to receive continuing education credits.
For more information, visit the conference website or call 502-852-5629.
About the Irving B. Perlstein Gerontology Lectureship
Irving B. Perlstein was a respected member of the medical staff at Jewish Hospital during a career that spanned decades. A native of Buffalo, N.Y., and a graduate of the University of Buffalo in 1939, Perlstein completed his internship and residency at Jewish Hospital. Specializing in internal medicine, Perlstein was recognized for his significant research on aging and thyroid dysfunction. His book, Diet is Not Enough, was published in 1963. The lectureship was created by his family after his death in August 1995 as a living memorial to him and his commitment to his patients and health care. The fund supporting the lectureship is held by the Jewish Hospital & St. Mary's Foundation.