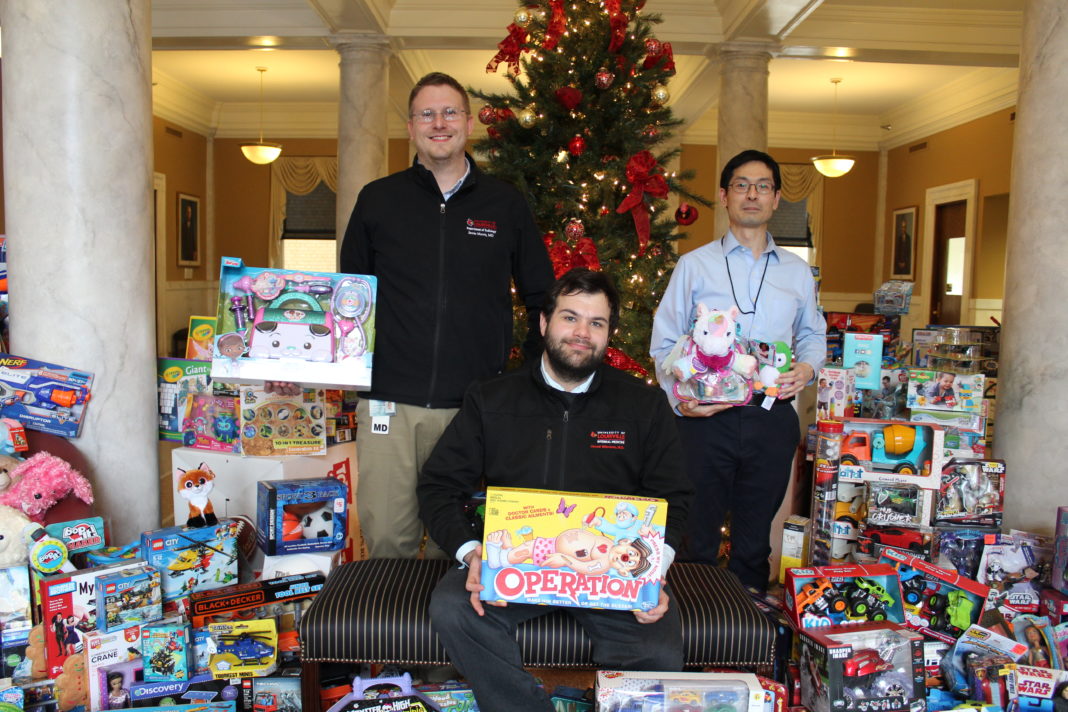 LOUISVILLE, Ky. – Medical residents and fellows at the University of Louisville have donated 870 new toys to local children for Christmas.
For the fourth consecutive year, the UofL School of Medicine House Staff Council, the representative body for resident and fellow physicians, led a weeklong collection for the U.S. Marine Corps Reserve Toys for Tots Program. Donations were received from individual residents and fellows and School of Medicine faculty, staff and students.
The Toys for Tots Program collects new, unwrapped toys and distributes them as Christmas presents to economically disadvantaged children in the community in which a campaign is conducted.
"This is our community," said Jared Winston, M.D., a UofL internal medicine resident from St. Louis. "Louisville is hosting a lot of residents who aren't from this area. It's a way to say 'thank you' to our community."
There was some healthy competition among School of Medicine departments over donating the most toys. Stock Yards Bank & Trust is providing a luncheon and plaque to the three residency programs that donated the most toys.
The winning program for the fourth straight year, the Department of Psychiatry and Behavioral Sciences, collected 370 toys. The Department of Radiology donated the second-most number of toys with 139, and the Department of Obstetrics, Gynecology and Women's Health finished third by contributing 102 gifts.
"The residents love helping out with the toy drive," said Jamie Morris, M.D., a UofL radiology resident. "The House Staff Council is very big into community outreach and this is such a fun way to do it. We have multiple people in our department who love going shopping for Toys for Tots."
#WeAreUofL